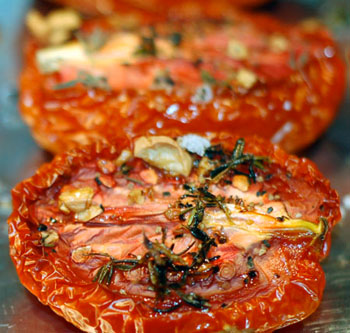 After the Great Sprinkler Disaster of '13, which drove our guests, sopping wet, to their cars, Bruce checked the forno, our 500-yead-old pizza oven, for temperature and said it was a good time to put in the tomatoes. JoJo had prepared them earlier in the day — a dozen or so juicy red beauties that had been trucked up from Sicily where tomatoes ripen a month earlier than in Umbria.
She simply halved them, scattered them with sliced garlic, oil, salt and parsley from our garden and put them aside to wait for the heat of the oven to drop, which happened around 1:30 in the morning, after the cleanup.
We put the two trays of tomatoes into the oven, said goodnight to Bruce and JoJo and went to bed. I woke the next morning, made some coffee and attacked the crossword puzzle. Halfway through, Jill called down:
"How are the tomatoes?"
"Tomatoes?"
"In the oven. "
"Uh …."
"How much did you drink at the party last night?"
"There was a party?"
I went out to the forno, which was still warm, and took out the trays. The tomatoes were perfect — slow, slow-roasted, the garlic having melted and mingled into the sugar sweet juices of the tomatoes.
Bruce and JoJo came over around 3:30 to pick up their chairs, oven tools, slicer and their share of the wine that was left over from the night before. We swam a bit to cool off and did a post-mortem on the party. Around 5:00 I felt a little peckish and I offered to make a pasta with the tomatoes.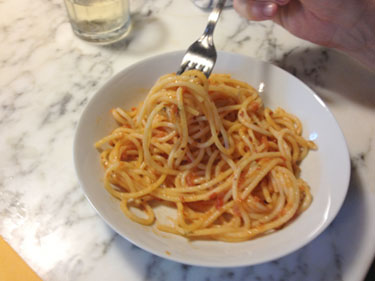 "What do we call this meal?" asked JoJo, looking at the clock.
"Linner? Dunch?"
"Good. We call it good," I said as I put the water onto boil and urged the tomatoes, garlic and parsley through a food mill.
That's the whole recipe, folks — slow-roasted tomatoes, pushed through a mill to remove the skins and seeds; toss in the spaghetti and add a bit of hot pepper if you like that kind of thing. No cheese.
The four of us sat at the kitchen table, each armed with a fork and a bowl. We ate silently and slowly, savoring each bite. It was shockingly good. It was like being on acid. There are no words.
P.S. — Bruce had taken home some of the unused pizza dough and made bread the following day. La festa continua.
Michael Tucker is an actor and author whose recent novel is "After Annie
."  He writes about his love of food on his blog Notes from a Culinary Wasteland.