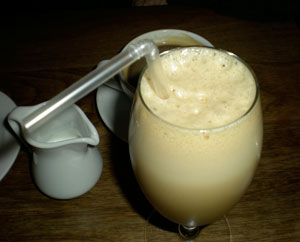 The best way to enjoy summer is to set goals for yourself. The best summer I ever had was when my friend Becky and I set a goal to eat at every single restaurant on the 25 best cheap eats from Los Angeles magazine. We failed to accomplish the goal, but is failure really such a bad thing when you're eating well on the way there?
This summer, I've come up with my first goal: learn how to successfully brew iced coffee, in other words, cold brew it. The first time I ever even heard about the concept was last year. A new coffee shop opened in the NYU hood called Think Coffee. I looked at the barista after my first sip and told him, "This is really amazing." He looked me dead in the eye and said "That's because we cold brew it for 24 hours. The way iced coffee should be made." I'm not going to lie, I kind of have a thing for pretentious baristas. And I developed a major thing for Think iced coffee. But then Think got popular, and popularity to me means only one thing: crowded.
So I searched elsewhere for perfect iced coffee. Dunkin' Donuts makes a great one, and, at the beginning of summer they have a fantastic event called "Free Iced Coffee Day" where you can get as many iced coffees at Dunkin' Donuts that you can go into in one day (I think my record is 6). But there are two problems with Dunkin' Donuts. First and foremost, they have no non-dairy milk, so my lactose intolerance prevents me from becoming a daily Dunkin'-er. Secondly, they don't cold brew the coffee, leading me to believe that there must be better alternatives out there.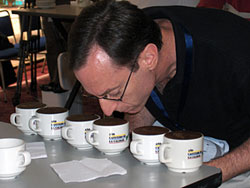 So in between Dunkin' days, I discovered one of New York's greatest treasures: Oren's Coffee. Disclaimer: Oren's does not cold brew their coffee. However, they pour it out of really cute Tupperware pitchers, it's a house blend and they serve it with the perfect amount of soy milk. Oren looks a lot like Bob Saget, and there are pictures of him on the wall smiling down on the customers from the coffee fields of Costa Rica.
Other things Oren's makes that are great: iced tea and white chocolate blueberry cookies. Their hot coffee is not that great, but I prefer iced over hot pretty much any day of the year. So Oren's quickly became my second favorite thing in my day, my friends being the first.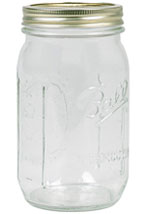 But then a really sad thing happened, I moved back to Los Angeles, away from my friends and away from the Oren's a block away from my New York apartment, and even further away from every other Oren's Coffee conveniently scattered around the city.
The past week I have been driving around Los Angeles, half in search of an apartment and half in search of a perfect Iced Coffee w/Soy. Peets Coffee might work out, Coffee Bean didn't make the cut, and there are a few others I am waiting to try out.
Today my little brother took the car before I could make it down the hill to Peets, so I'm back to my initial goal: Learn How to Cold Brew. I found a New York Times article telling me all I need is a mason jar and a sieve, so I pretty much have my day planned out. All I need now is a Tupperware pitcher…