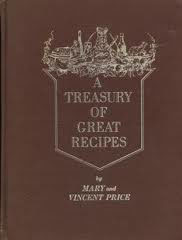 Given my love of sugar and horror, its no surprise that the first cookbook I used was by Mary and Vincent Price. It was called A Treasury of Great Recipes. Long before you had the countless husband and wife teams traveling and writing about the places they've eaten, you had Mary and Vincent Price, of all people, with photographs and anecdotes told in what is clearly Price's voice. Charming and funny, he was a wonderful raconteur and gourmand.

The first thing I made from that cookbook was an Apricot Mousse. My mother would make it and put it in these adorable little ceramic pots with lids on them and called them pot de crème. That's why, when I went to look up the recipe, I though I'd hallucinated the whole thing because that wasn't how it was categorized in the cookbook. But it enabled me to take a walk down cookbook memory lane. It was bittersweet to gaze upon my dusty volumes of Gourmet's compendiums. So sad. But, I digress.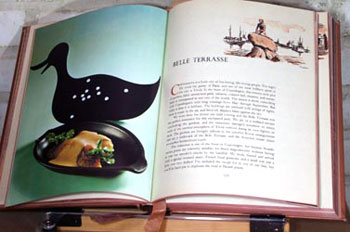 A Treasury Of Great Recipes is cool in so many ways. Besides having the silk ribbon place holder which I rarely see in newer books, they had photographs of not only the dishes prepared at some of the restaurants they'd visited all over the world, including America, but pictures of the places themselves along with reproductions of the menus. In short, the book is INDEED a treasure. Making this dessert was not only one of the first things I prepared, it was also the first time I used a Cuisinart. That's really scary kids.
Here is the recipe.
Apricot Mousse
from A Treasury of Great Recipes by Mary and Vincent Price:

Ingredients:

Dried apricots
Sugar
Lemon
Cream

1. In a small saucepan combine: 1 ½ Cups dried apricots, I Cup water, ½ Cup sugar and 1 thin strip of lemon rind. Bring this to a boil, cover and simmer for 20 minutes. Cool.
2. Put cooled mixture into the Cuisinart and puree.
3. Fold the pureed apricots into 1 Cup whipped cream and spoon into sherbet glasses or pot de crème cups and chill.
Laraine Newman is a founding member of The Groundlings Theatre Company and an original cast member of Saturday Night Live. She lives in her hometown of Los Angeles with her husband and two daughters.