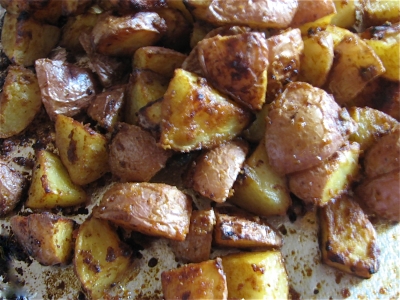 In addition to being an absolute pasta freak, I am passionate about potatoes. I could eat pasta everyday and potatoes, probably every other day. I love them every which way. A number of years ago Oprah's personal chef at the time wrote a cookbook called In the Kitchen with Rosie. It was a huge bestseller and featured very low fat recipes. There were some good recipes and techniques in the book. One of the recipes that made a big impression on me was called Mustard Roasted Potatoes.

The Mustard Roasted Potato recipe was red potatoes tossed with Dijon mustard, cumin, paprika, chili and cayenne. The potatoes roast in the oven and become all crusty and delectable. It's a great technique and can be endlessly varied. I've incorporated plain yogurt, fresh herbs, and different kinds of mustard. I like the Moroccan mustard from Dulcet Cuisine for this recipe because it has so much flavor you don't need to add any additional spices, but feel free to experiment and try any spiced mustard you like or add some spices.

Seriously, these potatoes are like candy they are so good! They are as addictive as french fries but infinitely healthier. Serve them as a side dish but make extras because they reheat fabulously well and even make a great snack. This is also about the least fussy recipe ever, you really can't go wrong with it.

Mustard Roasted Potatoes
Serves 4

1/3 cup Moroccan mustard
2-3 Tablespoons olive oil
1 1/2 pounds red potatoes, cut into small thumb-sized chunks

Preheat the oven to 400 degrees. In a large mixing bowl, whisk together the mustard and olive oil. Add the potatoes and toss to coat. Dump the potatoes onto a foil lined large rimmed baking sheet and spread them in a single layer. Roast, tossing with a spatula a few times, until the potatoes are crusty on the outside and tender throughout, about an hour. Serve hot.

Enjoy!
Amy Sherman is a San Francisco–based writer, recipe developer, restaurant reviewer and all around culinary enthusiast. She blogs for Epicurious , Bay Area Bites and Cooking with Amy .