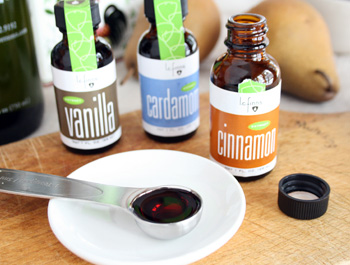 Some say it makes no difference what kind of vanilla is used in cookies, cakes, quick breads and custards. Some home bakers are sure artificial vanilla flavoring works just fine for giving the best flavor to their baked goods. Others would argue that you shouldn't waste your time baking if you use artificial flavoring. Only the real deal, pure vanilla extract, will work for giving the best flavor to desserts.
I'm a member of the pure vanilla extract club. I would never use an imposter in the custard for our family's special banana cake, layers upon layers of homemade vanilla custard, sliced bananas and vanilla wafers covered with a thick blanket of real whipped cream. My special pound cake would have something missing if it was made with artificial vanilla. Pure vanilla extract costs a bit more than its artificial look-alike, but to me, it's worth every penny.
Chad Gillard and Lee Zwiefelhofer favor the real deal, too. The two Twin Cities guys were discussing the absence of locally-made vanilla extract – extracts of any kind, really, as they downed some Finnegans together. They decided they'd make it themselves. In 2010 they started a company called l.c. finn's Extracts, l. for Lee, c. for Chad and finns for those Finnegans that were downed as the business ideas developed. A few months ago, they launched their first three extracts: vanilla, cinnamon and cardamom.
When Gillard (you may also know him as the Aunt Else's Aebleskiver guy) sent me the three extracts to try, I quickly opened the brown, glass bottles and sniffed each one. A whiff of cardamom extract brought floral, citrus fragrance to my nose. I thought how much it would be appreciated by Scandinavian bakers who smash whole cardamom pods to get the seeds they sprinkle liberally in their cakes, buns and pastries. How much easier it will be to use l.c. finns cardamom extract.
The cinnamon extract smelled sweet, warm, homey and exotic all at once. I added it to a batch of granola I mixed up that afternoon, along with some l.c. finn's vanilla extract. The next morning, a splash of cinnamon extract was a fine partner to my fresh red grapefruit for breakfast.
l.c. finn's vanilla extract has a rich, full-bodied, slightly earthy aroma that has brought new flavor to my homemade granola. I plan to use it in my next batch of Power Balls.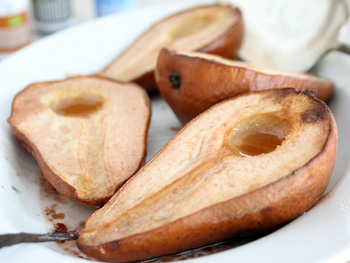 Organic cinnamon sticks, organic green cardamom pods and Madagascar vanilla beans soak in alcohol for weeks in an incubator kitchen in Minneapolis to produce l.c. finn's Extracts. The flavor is given plenty of time to develop. Zwiefelhofer and Gillard have an approach to extract that takes plenty of time – they aim for full flavor with no additives.
Gillard and Zwiefelhofer give a portion of their profits to a scholarship fund they have created to give financial assistance to potential food entrepreneurs. The scholarships will give these students an opportunity to attend Kindred Kitchen, a training program in north Minneapolis that can help them start their own businesses.
Last month, Heavy Table named Gillard and Zwiefelhofer as food entrepreneurs to watch in 2012. When I visited with Gillard by phone recently, I asked what we might expect to see. "We'll soon be introducing anise extract and chocolate extract. We're working on pecan and almond extracts," he said. "And, we are developing hibiscus extract. Tea lovers are enjoying hibiscus. We think there are many other ways to enjoy the flower that research suggests may help control blood pressure."
Right now, l.c. finn's Extracts are available in select stores in the Twin Cities area. You can find a list of those locations on the l.c. finns web site. You can also order extracts on the l.c. finns web site.
A recipe for roasted pears came in the box with the extracts I received. They are quick, easy, elegant and versatile. Serve for dessert with ice cream or whipped cream. They were delicious chopped and stirred into granola or oatmeal.
Only the real l.c. finn's deal will do.
l.c. finns Roasted Pears
4 pears, ripe (Bosc are best for baking)
2 tablespoons olive oil
2 teaspoon l.c. finn's Cinnamon Extract
pinch of sea salt
Slice pears in half and remove core. Place in lightly greased baking dish. Mix olive oil, Cinnamon Extract and salt together. Spoon mixture evenly over pear halves (or apples). Roast for 45 minutes at 400 degrees F. Serve warm, with dollop of Cardamom Whipped Cream or scoop of vanilla ice cream.
l.c. finns Cardamom Whipped Cream
1 pint heavy whipping cream
1/2 cup sugar
1 tablespoon l.c. finn's Cardamom Extract
Chill large glass or metal bowl and mixer beaters in freezer for 10 to 15 minutes. Pour heavy whipping cream in the ice-cold bowl. Beat whipping cream with ice-cold beaters until peaks are just about to form. Add sugar and Cardamom Extract. Continue to beat until peaks form. Do not over-beat, cream will become lumpy and butter-like.
Sue Doeden is a popular cooking instructor, food writer and integrative nutrition health coach. She is the host of Good Food, Good Life 365 on Lakeland Public Television. Her own hives full of hardworking bees and her love of honey led to the creation of her recently published cookbook, Homemade with Honey.