From the LA Times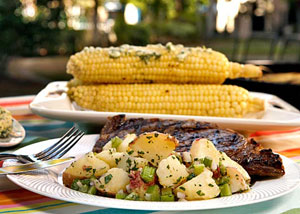 Ah, the first warm days of summer, when some mysterious force compels even the most hapless cooks to start a fire and burn some meat. Walking around my neighborhood last weekend, the smell of flaming beef fat was everywhere.

It made me wonder: Really, how hard can it be to grill a good steak?

You shouldn't even need a recipe. Take a good piece of meat (bright red color, nice flecks of white fat inside the muscle, not just around it, at least an inch thick), season it simply (salt and pepper, that's it) and put it on the grill over a moderately hot fire (not too hot or it's "Towering Inferno" time — when you can hold your hand about 5 or 6 inches over the grill for four or five seconds, that's right).
Beyond that, it's all detail. But, as in anything, those details are exactly what make the difference between good and great. Fortunately with a steak dinner, they're really pretty simple, even if they can be a bit geeky.