From the LA Times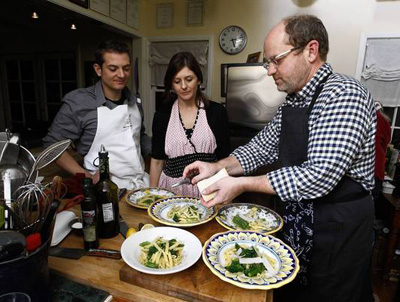 Meghan and Carter are getting married. Like so many friends of my daughter, they are bright, funny and, sometimes, almost preternaturally serious. A couple of weeks ago, they asked my wife if we would talk to them about how to stay married — and about how to cook.
The first, I'll leave to Kathy; after almost 34 years, it's still a mystery to me. But the cooking part is right up my alley, and, even better, I figured it would give me a chance to try out some of the ideas I've been on a soapbox about for the last couple of years.
A basic knowledge of cooking — not the intricacies of fancy restaurant dishes or the parsing of various ethnic cuisines — seems to me to be fundamental to a happy life, whatever your relationship status. A good meal gives such great joy, why would you want to leave it to the hands of a stranger?
So Sunday night, Meghan and Carter came to the house for a cooking class. But instead of doing the usual thing and walking them through a couple of recipes, I wanted to try something different. I love recipes as much as the next guy, but it does seem to me that they are an imperfect way to learn to cook. Sure, a well-written recipe can teach you how to re-create a specific dish, but that's a different thing from actually knowing how to cook, isn't it?