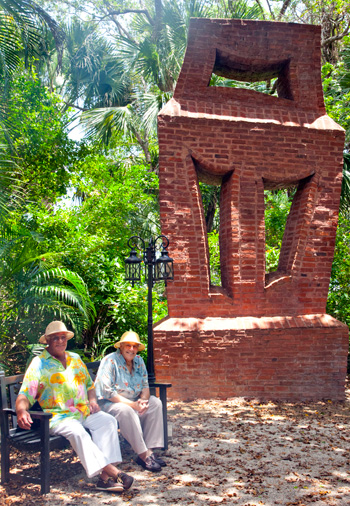 If your idea of a good time is to peruse a calendar of naked men (and definitely of a certain age) then join the Gentlemen of the Garden at their next outdoor bash in Palm Beach. No? Do it anyway – the party is a hoot!
It's not every night that one can whoop it up with 100 caring but crazy gentlemen dedicated to maintaining the Ann Norton Sculpture Gardens in West Palm Beach. Count on near naked dress codes among some of them, but also count on a dinner menu not usually found in the best books on Entertaining Lavishly – I rather favor their homemade tamales… but that is another story.
This story revolves around a pair of GoGs that love life, putti, fruit trees, and home cooking! It can't get better than that!
David Miller and Ray Wakefield have been growing exotic fruit bearing trees for decades, and the line waiting for Ray's Calamondin Marmalade features some of Palm Beach's most famous Swans!
So what trees do they have you ask? Over the years – Calamondin, carambola, mango (OMG the Florida mangos are drop dead wonderful this time of year) avocado, kumquat, loquat, Meyer lemon, sapote, guava (which apparently makes divine jam if it weren't for the thin skin and tedious process) grapefruit, sour orange and perhaps the most exotic of all - monstera deliciosa! (Not sure about you, but I insist all my monstera be deliciosa! No?)
Every time I have tried to make sweet jellies I fail. So I pass these wonderful recipes onto you - smug in the knowledge that I can wait in line with the Swans and get Rays! You all will simply have to trust Ray to dazzle your friends with Carambola Pickles and Calamondin Marmalade. The nostalgic remembrance of Maine Crab Apple Jelly, while not a daily delicacy in Palm Beach, is in honor of the season.
Maine Crab Apple Jelly
Recipe originally from Mrs Fred Mason, Ammadamast Grange Cook Book, Enfield, Maine Revised Edition 1955 (1936 & 1944)
Cut below stem and any dark spots from one peck of crab apples and wash thoroughly. Put into pan with cold water to cover and boil gently until soft. Strain through colander and then "Jelly Bag" which is cheese cloth hammock...best to let drain for several hours, or overnight. To each pint of juice, add 3/4 pint of sugar, add the juice of 2 lemons. Boil swiftly until mixture clings to spoon. Color has blush. Pour into sterilized jars.
We would collect the crabapples from an old tree up the road on land that used to be a family farm, but now was part of the land of a new middle school.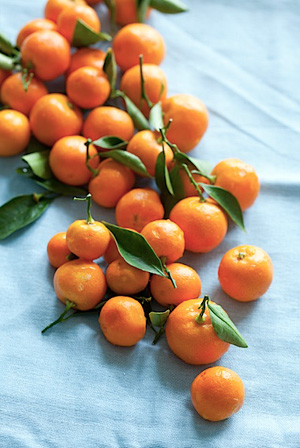 Calamondin Marmalade
Calamondins are tart, round miniature oranges that grow on small to mid-sized trees. Remember the small plants that used to be sent from Florida as gifts in the 1950's?
Puree coarsely enough, halved and seeded, including the peel to measure 2 cups. In a stainless or enamel kettle combine the puree and 1 cup orange juice and bring the mixture to boil over moderate heat, stirring. Add 3 cups sugar and boil the mixture, stirring until a candy thermometer inserted in mixture reaches 223 degrees for 1 minute. Spoon into sterilized jars. Makes about 5 cups. Make no more than 3 batches at one time.
Carambola Pickles
4 cups carambola (star fruit) slices, 1.5 cups sugar, ½ cup vinegar, 1 stick cinnamon, 5 teaspoons whole cloves
Place caramobola slices in a glass jar or bowl. Make syrup of sugar, vinegar and spices. Bring to boil and pour over carambola slices. Let stand overnight. Next day, drain off the syrup and bring again to boil. Place carambola slices in hot, sterilized jars and pour boiling syrup over (to overflowing). Seal. Store in a cool place.
Nancy Ellison, award winning photojournalist and celebrity portraitist, has authored fourteen books of photographs, including "Romeo and Juliet: The Love Story in Dance" and "Starlet". Her latest book is "Wagner's Eternal Ring".