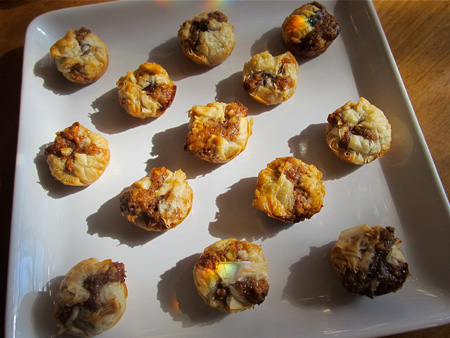 Ingredients:
1 1/2 cups pecans
1/4 cup bread crumbs
1 tablespoon dark brown sugar
2 teaspoons ground cinnamon
1 teaspoon anise extract
2 teaspoons almond extract
2 tablespoons honey
12 Nestle chocolate chunks
1/2 stick melted butter
12 sheets filo dough
Cooking Directions:
Preheat your oven to 350 degrees F.
Whizz together in a food processor the pecans, bread crumbs, brown sugar, cinnamon, anise extract, almond extract and honey.
Brush a sheet of filo with melted butter, top it with another filo sheet, brush that sheet with melted butter, and continue the process until you have a stack of 6 sheets.
Slice the sheets into squares to fit into the muffin tins.
Repeat this process in order to fill a second muffin tin.
Place 1 teaspoon of the nut mixture into each muffin and top with one chocolate chunk.
Fold the filo over each muffin form and place the muffin tins in the oven to bake for 20 minutes until they are golden brown.
This recipe makes 24 Baklava Cookies and takes 20 minutes to bake.
- Recipe courtesy of Hillary Davis's blog Marché Dimanche.