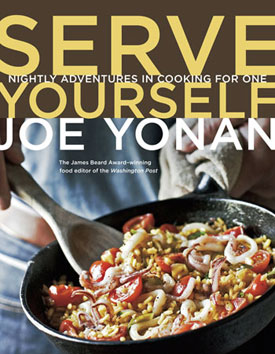 This quick book review will most likely be biased. I'm cool with that. And I'm owning my bias in a big way, here's why:
1. My husband works out of state several weeks a month.
2. I am from Texas. Mr. Yonan is from Texas.
3. Mr. Yonan is affable, sweet and smart, and has a chapter on tacos.
4. Tacos.
While 1 through 4 are major reasons why I love this book so much, they're not the only reasons why Joe Yonan's Serve Yourself: Nightly Adventures in Cooking for One
is currently rocking my kitchen. I met Joe, the Food & Travel editor for The Washington Post, in person last year at IACP when I was presenting a talk on food photography. You can imagine my surprise when we started chatting about being from small Texas towns, and if you're from a small Texas town there are some things that only others could from Texas could understand and appreciate. Plus Joe spent time in Austin, my 2nd hometown, so you can see the affinity I have for Joe.
But let's talk about his book. Beginning with a very amusing story about a Facebook comment Joe received about his "Cooking For One" column in The Washington Post, this book celebrates something many of us do on a regular basis when we sit down to a meal created for ourselves. And I'm of Joe's mindset: there's nothing wrong with having a wonderful group of friends and family to share meals with, but when you are alone you needn't be without good food. And this is why (along with #1 above) that this book resonates so much with me. I cook for myself more than you would possibly realize.
For me, cooking solo relies on some of my favorite things to cook: stir fries, grains and beans, anything with tortillas and plenty of roasted or grilled vegetables. Now that Joe's written a book on this subject, well, I'm elated that I'll be able to cook from it and still be treated to so many of my favorites: sandwiches, tacos, a whole chapter on eggs (YES!) as well as pizzas and pasta. I'm a huge fan of making pizzas when I'm home alone and plan on diving into the pizza chapter today while the other half is working in Chicago.
And yes, the recipes are written in quantities meant for one, with plenty of information on ways to put leftovers to great use and how to dress up the meal with condiments.
Did I mention there's a chapter on tacos?
I still haven't decided what I love most about Serve Yourself: the variety of stellar recipes or Joe's humor that opens and closes the book. I couldn't stop laughing about the stories of his relationships past, all shared with humility and humor and I'd probably be the first person to buy a book he wrote on that subject alone. Joe is hilarious.
Joe's Spicy Hummus
With all my banter about tacos you'd think I'd pick a recipe from that chapter. Nope. I can't get past his recipe for Spicy Hummus which I not only had at the studio when I photographed it for this post but have made 2 times since then. It's delicious with a slight kick, I've been digging it with sliced cucumbers as my choice of dipping vessel, spread on toasted lavash and also on everyday sandwiches. I am officially in chickpea mode and this hummus is perfect.
Makes about 2 cups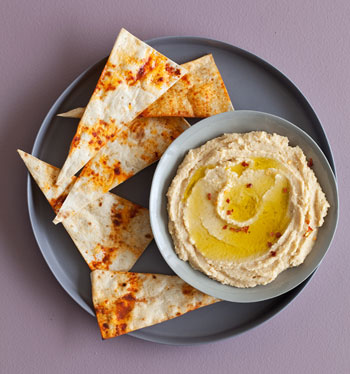 1 tablespoon extra-virgin olive oil
1 teaspoon red pepper flakes
1/2 teaspoon pimenton (smoked Spanish paprika)
2 cups cooked chickpeas, preferably homemade (page 45), rinsed and drained
1/2 cup chickpea cooking liquid or water, plus more as needed
2 tablespoons tahini, plus more as needed
Juice of 1 lemon
1 plump clove garlic, peeled
1/2 teaspoon salt, plus more to taste
Pour the oil into a small skillet over medium heat. When the oil starts to shimmer, sprinkle in the red pepper flakes and pimenton. Cook, stirring or shaking the pan frequently, until the spices are very fragrant, about 30 seconds. (Be careful not to let the spices burn.) Turn off the heat and let cool.
In a food processor, combine the chickpeas, cooking liquid, tahini, lemon juice, garlic, and salt. Pour in the oil and red pepper flakes from the skillet. Process until smooth. Taste, adjust the salt if necessary, and add more cooking liquid or water if you want the hummus thinner or more tahini if you want it thicker.
Eat immediately, or cover tightly and store in the refrigerator for up to 2 weeks.
Reprinted with permission from Serve Yourself: Nightly Adventures in Cooking for One by Joe Yonan copyright © 2011. Published by Ten Speed Press, a division of Random House, Inc.
Matt Armendariz is a writer and photographer who lives in Los Angeles and chronicles his passion for food and travel on his blog MattBites.com.