We don't eat out a lot, which means my wife makes dinner for me almost every night. She taught herself how to cook and I get to enjoy the fruits of her labor. In exchange, I do the dishes. It's a system that works out very well for us. It plays to each others' strengths. If I was in charge of the kitchen she would have to choose between Hamburger Helper or Taco Bell every night. HH is the only meal I used to cook regularly in college and I got very good at mixing it up to taste like different things. It's what we both ate a lot during our first years living in Los Angeles, though that was long before we met. It was such a go-to dish it made a weekly appearance on our dinner table at the beginning of our relationship. I think we're both glad she developed higher culinary skills than cooking pasta out of a box and that I was no longer allowed in the kitchen.
Our house is strewn with cookbooks, some used more than others and none ever cracked by me. Until recently, when she got one called Recipes Every Man Should Know
by Susan Russo and Brett Cohen. Since using the microwave is a challenge for me (unless she tells me how long to cook something), I wasn't sure I could handle any of the recipes from this little black book. The introduction claims that cooking will make men look sexy and that it will be fun because it involves fire, sharp instruments and meat. It's an intriguing premise, (who doesn't want to appear sexier) so I took it as a challenge to see if it could help someone like me make a meal we could enjoy.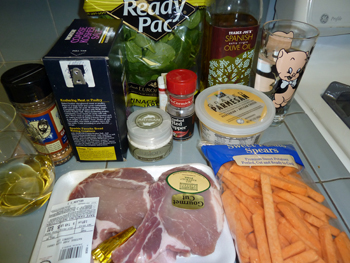 Since I'm a meat and potatoes guy, I selected 3 dishes, the main entrée of pan-fried Pork Chop and two sides: sauteed spinach and sweet potato fries. My wife took it upon herself to do the grocery shopping and prep the kitchen, making sure everything I would need was at my fingertips.
It was an opportunity to unleash my inner chef and while I'm not going to qualify for Top Chef anytime soon I think I did a great job for my first time at the stove with ingredients that didn't come from a can or a box. (I will admit to using pre-cut fries. Baby steps, people.) What I made was quick, easy and tasty. Not poisoning us was an extra bonus.
The recipes in the book are short and simple using language men who are unfamiliar with preparing a meal can understand. With estimated times and servings listed for each dish you can plan out the cooking times to make sure everything comes together perfectly. I highly recommend picking up this book and using it to regularly impress your lady. It has recipes for breakfast, lunch, dinner and dessert, so the options are plentiful. Or keep it secretly tucked in a drawer for when you really need some bonus points. She won't stay mad for long. Unless you leave her the dishes.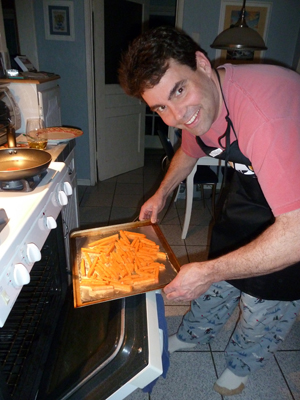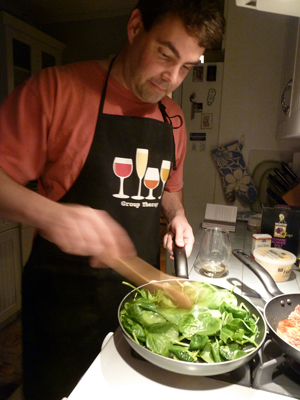 PORK CHOPS

1 tablespoon olive oil
4 – 1/2-3/4 inch thick boneless pork chops
Salt and black pepper
2 teaspoons Dry Rub (of your choice)
Warm oil in a large skillet over medium-high heat. Season both sides of chops with salt, pepper and dry rub (if using). Cook chops 3 minutes. Flip and cook 2 t0 3 minutes more, until seared evenly and no pink juices are visible. Remove pan from heat and let chops rest 1 to 2 minutes. Eat.
- Courtesy of Recipes Every Man Should Know
GARLICKY SPINACH
1 tablespoon olive oil
1 garlic clove, minced
1 (12 to 14 ounce) bag of fresh spinach
A couple pinches of crushed red pepper flakes
Several shakes of salt
Heat oil in a large skillet over medium heat. Cook garlic 1 minute. Add spinach. Toss until wilted, about 1 minute. (The spinach will shrink. A LOT.) Season with red pepper flakes and salt.
- Courtesy of Recipes Every Man Should Know by Susan Russo and Brett Cohen. ©2010 Quirk Production, Inc. All rights reserved.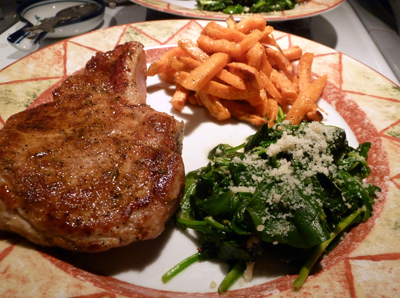 The finished products. Yes we added a bit of parmesan cheese to the spinach.
We LOVE cheese and couldn't help ourselves.
Dave Dinsmore is an IT professional with an obsession for high tech toys, especially ones from Apple. When he's not researching and installing the latest gadgets, he's at his day job at Dreamworks Animation.