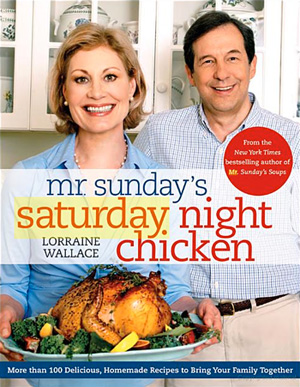 I just got an advanced copy of my friend, Lorraine Wallace's newest cookbook, Mr. Sunday's Saturday Night Chicken
, and I haven't had this much fun with a chicken since Dionne Lucus taught me how to rip the bones out of one while leaving it's flesh undisturbed. (Yeah, I'm dangerous!)
I got this advance copy because I shot the cover photograph, and while I also contributed a recipe, I had no idea what a friendly, loving and delicious cookbook she had created.
Besides the happy photos of family and friends, tips and a market guide to terminology, she has given us "keys" – ways to consider chicken: boneless/skinless, quick, supermarket rotisserie chickens (for pulled chicken recipes), company, potluck, stovetop, one pot and grilled recipes. She even has chicken recipes for chicken vegetarian dishes (huh? They have been designed so that one can eliminate the chicken in favor of vegetables instead…).
The recipes all appear to be utterly user friendly. And, I know for a fact, they are all recipes that she has prepared in her own kitchen for her husband, Mr. Sunday himself, Chris Wallace. (He LOVED my chicken in orange juice) I guess that tells us something else; they must be calorie conscious as he looks darn good on TV.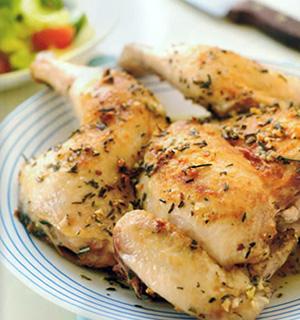 Among the 130 recipes that I can't wait to try are a beautiful Tandoori Roast Chicken, a Classic Chicken Pot Pie, her yummy sounding version of Chicken Enchiladas with heavy cream, cheddar and Monterey Jack cheeses, tomatillos and flour tortillas (back to the comfort of the nursery! And exercise the next day), Polenta Gratin with Turkey Bolognese, a simple version of Chicken Kiev that gives me courage to try it, Dickens' Christmas Goose, and naturally a slew of game day recipes.
She also includes 31 side dishes such as Baked Brown Rice and Asian Noodles. The first recipe that my husband, Bill has requested is her very tasty sounding Chinese Chicken and Mushrooms (then the Chicken Kiev). As Bill says, "if Lorraine has a recipe made with chicken I will love it."
Since I have only drooled over and not prepared recipes from her book, I offer her version of my very delicious – of course I am prejudiced – Nancy's Braised Chicken in Orange Juice. She has taken my short hand recipe where my ingredients are listed usually as "some" or "a bit of" rather than specific amounts, has taken her time and gone through the process carefully and tenderly, making it both simple and easy to prepare.
(The smell of chicken simmering in orange juice is remarkably tempting. This recipe with just a change in spices – soy sauce, brown sugar, ginger and garlic for Asian; dried apricots, cinnamon, almonds and yogurt for Mid-Eastern, and tarragon, white pepper, white wine and lots of butter for French, for example – can deliver one simple recipe into a range of international tastes and aromas.)
INGREDIENTS
One 3-4 pound chicken cut into 8 pieces
Course salt and freshly ground black pepper
½ cup all-purpose flour
1 tablespoons extra-virgin olive oil
½ cup chopped pineapple fresh or canned
½ cup chopped sliced almonds
½ cup chopped raisins
Pinch of ground cinnamon
Pinch of ground cloves
2 cups orange juice
Orange and avocado slices, for garnish.
DIRECTIONS:
Rinse the chicken with cold water and pat dry with paper towels. Place the chicken on a baking sheet and season with salt and pepper. Cover loosely with aluminum foil. Set aside.
Pour the flour into a shallow dish such as a pie plate. Coat the chicken pieces in the flour, shaking off any excess flour. Put the chicken on a rack or baking sheet.
In a large skillet over medium-low heat, melt the butter with the oil. Add the coated chicken to the skillet and brown the chicken on each side, about 4 minutes per side, working in batches if needed.
In a small bowl, combine the pineapple, almonds, raisins, cinnamon, and cloves. When the chicken has browned, add the orange juice and the fruit/spice mixture to medium-low, cover and simmer until the chicken is cooked through, about 45 minutes.
Remove the lid and continue to cook until the sauce has reduced and thickened, about 15 minutes more. Taste the sauce and adjust the seasoning with salt and pepper' if needed. Serve the chicken on a wide-rimmed platter with the sauce, garnished with the orange and avocado slices.
Note: For a thicker sauce transfer the chicken after 45 minutes to a large platter and cover with aluminum foil. Increase the heat and whisk the sauce in the skillet until thickened, about 3 minuets.
Nancy Ellison, award winning photojournalist and celebrity portraitist, has authored fourteen books of photographs, including "Romeo and Juliet: The Love Story in Dance" and "Starlet". Her latest book is "Wagner's Eternal Ring".