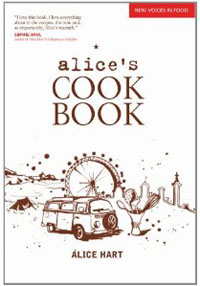 Are you young, busy, and socially active? If so, Alice Hart wants you in the kitchen, with her cookbook, named simply Alice's Cookbook
. Hart realizes that although most 20- and 30-somethings are in a constant buzz, they love to slow down and socialize with friends, preferably over good, honest food and drink. Therefore, she has divided her chapters by meal type then by occasion so users don't have to create their own menus.

Under "Breakfast and Brunch" she includes "spring breakfast for 6 on the weekend," with recipes for Maple and Blueberry Sticky Rolls, Tropical Fruit Platter with Kaffir Lime and Sunshine Juice. Under "Party" she includes "hot summer barbecue" with recipes for Skirt Steaks with Red Chimichurri Sauce, Charred Corn Salsa, Avocado Salsa and Best Brownies. She also provides "hands-on" time for each recipe and advice for scaling quantities up or down to feed a crowd or a few.

Hart's English pedigree is reflected in her selection of recipes, which include many Indian, French and English dishes, such as dahl soup, pear and almond tarte tatin, and Yorkshire pudding. Overall, the recipes are simple and straightforward. Ingredient lists are not overly long, and instructions are written in a conversational tone.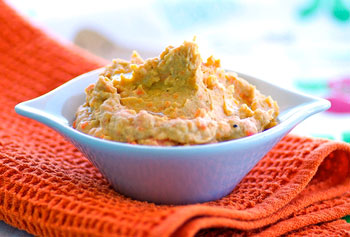 I have made a couple of the recipes from this book and am particularly fond of the Roasted Carrot Hummus that has a pleasing sweetness and distinctive earthiness due to the addition of toasted cumin seeds. I served it as part of a crudite platter one evening, then smeared it on a grilled chicken sandwich the next day. Both were terrific.

Emma Lee's photography is beautiful -- simple and artful. I only wish the book had more of it.

So no matter how old you are, take Alice Hart's advice about spending time in the kitchen: "It's not just about cooking, it's about enjoying life."

Roasted Carrot Hummus

2 large carrots, scrubbed and thickly sliced
1 1/2 teaspoons cumin seeds
Olive oil
Salt and pepper
1 fat garlic clove, roughly chopped and crushed
1 (14-oz) can chickpeas, drained
1 heaping tablespoon light tahini
Extra-virgin olive oil
Lemon juice, to taste

1. Preheat oven to 400 degrees F. Toss the carrots with the cumin seeds and some oil and seasoning. Spread out in a roasting pan and roast until soft and charring at the edges, about 35 minutes. Let cool.

2. Combine the garlic, chickpeas, tahini, and cumin-spiked carrots in a food processor and pulse until coarse-fine. Add a slug of extra-virgin olive oil and a squeeze of lemon juice, then adjust the balance until you're happy. Serve with warm flatbread.
Susan Russo is a free lance food writer in San Diego, California. She publishes stories, recipes, and photos on her cooking blog, <Food Blogga and is a regular contributor to NPR's <Kitchen Window. She is also the author of Recipes Every Man Should Know
and The Encyclopedia of Sandwiches
.