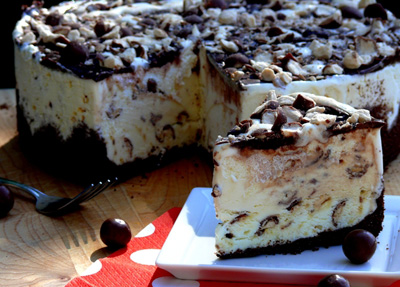 My oldest son has declared this..."the best thing you have ever made." He's already requesting it for his birthday next March. I don't blame him...it really is so, so good...it's one of those sweets you crave after you've had a slice.
It is the perfect combination of flavor and especially texture. And it's a big cake, perfect for summer parties. It freezes well, unmolds well...it's all around super-easy, just like you want your summer to be. At the same time it's impressive in it's girth and taste. I will be making this again and again.
Growing up we never had ice cream cake/pies. I don't even remember a Baskin-Robbins cake making an appearance. But my mom is a baker so I guess that is the reason.
Anyway, with temps finally hitting the 80's in the Pacific Northwest, this has been the perfect indulgence. I hope you give it a try, you won't be disappointed.
Whoppers-Malted Milk Ice Cream Pie
Recipe Created by Noble Pig | Serves: 12
Ingredients:
Crust:
1-2/3 cups crushed chocolate graham crackers
1/4 cup sugar
4 Tablespoons unsalted butter, melted and slightly cooled
Filling:
1 (12 ounce) carton Whoppers or malted milk balls
2 quarts best quality vanilla ice cream, softened
1/2 cup malted milk powder
Topping:
7 ounces semi-sweet chocolate chips
1/2 cup heavy cream
Directions:
For crust, preheat oven to 350 degrees F. Crush graham crackers in a food processor until finely ground. Add sugar and butter and pulse until fully combined. Press the mixture into the bottom and up the sides of a 10" springform pan. The crumb mixture will be very dry. Bake for 8-10 minutes or until firm and set. Let cool completely.
Place Whoppers into a ziplock bag. Seal the bag and crush the candies with a mallet or a rolling pin. Put to the side a 1/2 cup of crushed Whoppers to be used as part of the topping. In a large bowl, stir ice cream , malted milk powder and remaining crushed Whoppers. Spread the ice cream mixture evenly over the cooled crust, making the top smooth. Freeze for one hour.
To make the topping, place heavy cream in a small saucepan over medium-high heat and bring to a boil. Pour over chocolate chips and let sit for 1 minute. Whisk chocolate until very smooth and pour over the partially frozen ice cream cake. Sprinkle with reserved crushed Whoppers. Freeze until firm, another 6 hours or overnight.
Remove cake from freezer and let sit for 5 minutes. Loosen pan sides and run a knife around the inside of pan. Remove cake pan, sides and bottom and place on a serving plate. Use a sharp knife to cut into wedges.
Cathy owns a vineyard and winery in the Willamette Valley of Oregon. She is a food writer for Davis Life Magazine and blogs daily about wine, food and everyday living. She lives with her husband and two sons. You can visit her at noblepig.com.