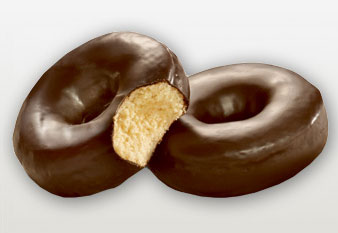 As I have been known to confess on these very pages, when it comes to sweets, I am an unabashed purveyor of the pedestrian. Most people who have been to a Ralph's Supermarket have probably noticed the bakery section with its apple turnovers, banana muffins, red-velvet cupcakes, entire cakes and even half cakes—presumably to add variety for the discriminating tastes waiting at home. Whatever glutenous confection you have a hankering for you can pretty much find in this section of the store, right in front of you, the minute you walk in. Since I am stuck with the kind of willpower that needs constant reviving and have been unable to resist many of these offerings in the past, I try to enter the store at the other end, where the fruit is colorfully, bountifully ensconced. But to no avail.
Unfortunately, one item in that dreaded bakery always summons me: chocolate donuts. Clamshells with a twelve-count sit stacked on the bakery tables, neat rows of the taunting chocolate visible through the plastic. Only $4.99 for the Ralph's Club member. How can one resist? Don't they contain all the food groups, milk, eggs, flour, and cocoa (yes, I count cocoa as a food group)?
One of these perfectly round donuts and a glass of milk means instant transport to childhood. The chocolate coating cracks a bit as your teeth sink into it, and the edges of the fresh golden cake beneath break away first. Then you're left with a thick knot of cake and chocolate at the center, one perfect bite.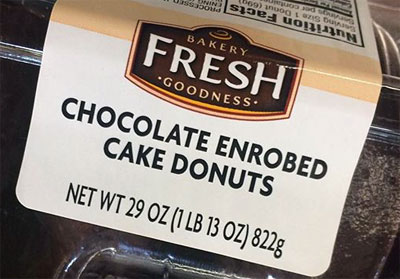 So I'm in my kitchen, eating over the sink like a single person. The first bite breaks the donut into the expected pieces, edges first, then the center, and I punctuate each bite with a gulp of milk. As I stand there in a chocolate reverie, for the first time, I actually scrutinize the clamshell container the way one, still warm with sleep, reads the cereal box over and over again when chomping on breakfast flakes.
I had never really looked at the label before because I usually rip it to pieces in my eagerness to break in and grab the goodies. Plus, looking too closely at the label would encourage the kind of food shaming that would put a damper on the whole experience. But this time, since I must have been a tad more delicate, the label, still in tact, reads, "Chocolate Enrobed Donuts." ENROBED! Not chocolate covered, but "enrobed"? Really? Chocolate ENROBED Donuts? I couldn't get over it.
I had to wonder, did the labeler mean to equate the thick cover of chocolate with garments used for clerical ceremonies? Did the labeler also see these donuts as the source of some kind of religious experience, not just your everyday snack? Who would have expected a grocery store label to contain a perfect metaphor? Who would have expected the ridiculous to be so sublime.