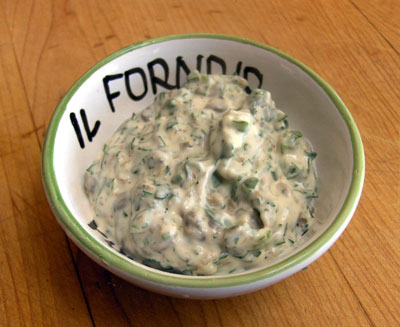 Sometimes what I crave isn't the thing itself but the sauce that goes with it. Years ago when I was a vegetarian, I did very well without eating meat except for a recurring craving for hot dogs. I couldn't go to a Dodger's game or a county fair without being taunted by the sight of a hot dog stand.
Even now, writing this, my mouth waters at the thought. In time I realized it wasn't actually the hot dog that I missed, it was the mustard, relish, and chopped onions that had me questioning my commitment to vegetarianism.
I have to confess to a lack of enthusiasm for fish. Over the years I have found appetizing ways to prepare salmon, sand dabs, tuna, and sole, but fish isn't my "meat" of choice.
Recently though I discovered halibut, which is quite good, if it's available fresh from a Farmers' Market. Lately I've been getting great fish from Tropical Seafood at the Sunday Palisades' Farmers' Markets.
What makes the dish work, though, is homemade tartar sauce. It is delicious on the side, if the halibut is served with vegetables, or on a grilled roll, with avocado and hearts of romaine, which is how I had it for lunch today.
Tartar Sauce
Since there are fresh ingredients, the sauce can keep for a week if it's refrigerated in a sealed jar.
1 cup Best Foods mayonnaise
1 tablespoon capers, drained, finely chopped
2 tablespoons Italian parsley, washed, dried, leaves only, finely chopped
1 scallion, the ends cut off, finely chopped
1 teaspoon lemon juice
1 teaspoon olive oil
Pepper
Mix together.
Serves 4. Preparation Time: 5 minutes.
Breaded Halibut
The halibut can either be sautéed or baked. Traditionally when fish is breaded, an egg and/or milk wash is used to make the bread crumbs stick to the fish. I prefer using seasoned olive oil, which is lighter and adds a pleasant crunch.
1 pound fresh halibut, washed, dried
1/2 cup breadcrumbs
1 tablespoon Italian parsley, washed, leaves only, finely chopped
Sea salt and pepper
1 tablespoon olive oil
1 teaspoon sweet butter
Cut the halibut into 2 equal pieces. Mix the parsley into the bread crumbs. Put the bread crumbs into one flat bowl, the olive oil in a 2nd bowl. Season the olive oil with sea salt and freshly ground black pepper. Dredge the halibut through the seasoned olive oil on all sides, then through the bread crumbs. Sauté the halibut with the butter and what's left of the seasoned olive oil, or bake the fish on a Silpat sheet or piece of tin foil on a baking sheet in a 350 degree F oven. Whether you sauté or bake, turn the fish over in 5 minutes.
For a sandwich, grill or toast the bread with a drizzle of olive oil. For an entrée, sauté some fresh vegetables. I like a shallot, garlic, mushroom, carrots, and spinach combination with a pat of butter for flavor. In either case, the halibut is made all the more delicious by a generous serving of tartar sauce.
David Latt is an Emmy-award winning television producer who turns to cooking to alleviate stress. He shares his experiences with food and his favorite recipes on his blog Men Who Like To Cook.