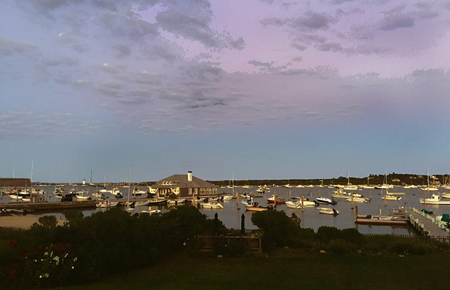 I love the sunrises in Edgartown. Our bedroom faces East on the Harbor, and the sunrises are breathtaking - quite powerful. (Red in the Morning; Sailor's Warning)
But, as a Californian, I am truly addicted to the Golden Light of Sunset, or as some say, Magic Light. The Sun at that short but delicious time of day rests on the horizon line, offering a perfect warm, golden light. Portraits and landscapes become truly magical, but I also love that light as it fades to darkness… It becomes poetic and a bit sad.
I got the End of Summer Blues.
People in Edgartown are always friendly and polite - ditto the dogs, So Bill and I (and our dog Charlie) awaken with the pleasant thought of our walk to town. Our neighbor, Lucy, across the street has two labs (The Black Dogs of Martha's Vineyard) and we visit on occasion. Today was one of those days. The usual chatter about the lack of rain and the end of summer. I asked our neighbor where her home was off-season and she replied Los Angeles. Where? I demanded! Hancock Park she replied. I went to school in Hancock Park I responded happily. I used to live there... bla bla bla. It finally got down to who do you know and a name - Amy Ephron – came up. Yes I know Amy … I sometime write articles for her E-zine OneForTheTable. (Wait… are you ready for this) So do I she said. So, for the lovely Lucy Dahl, I dedicate my end of summer Vineyard Recipe.
I am seriously addicted to spiral cookbooks – you know the kind from local hospitals, schools, clubs, auxiliaries and arts groups. Unlike all the glossy cookbooks, these humble anthologies typically only offer simple, easily homemade recipes and ones usually calling for such ingredients as canned mushroom soup, molasses, a lot of mayonnaise and cool whip! Heaven. The home we rented this summer has quite a few spiral cookbooks, but I am going with the Favorite Recipes from Pirouettes to Crêpes Suzette from the Cape Cod Ballet c 2001, because it also has a recipe for finger paint (cornstarch, sugar, cold water and food color) and "Bailey's People Bones for dogs (wheat germ included).
My first thought was to find a Cape Cod style oyster or lobster dish, but I noticed this book seems rather heavily (pun intended) devoted to desserts. Might I add, isn't this an odd focus for a ballet company… just asking.
Follow the calories: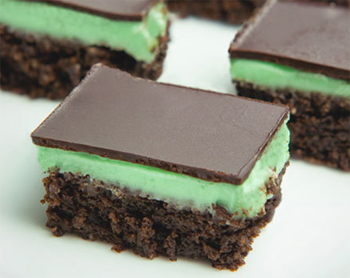 Crème D' Menthe Brownies
Step One:
1 cup sugar
4 eggs
1/2 cup unsalted butter, very soft
1 cup flour
1/2 teaspoon salt
1 (16 oz.) can chocolate syrup
1 teaspoon vanilla
Beat all ingredients together until smooth. Pour into a greased 13 x 9 pan. Bake at 350 degrees for 25-30 minutes until just done. Don't burn the edges. Cool thoroughly.
Step Two:
2 cups powdered sugar
1 cup unsalted butter, very soft
3-4 Tablespoons Crème d' Menthe
Beat ingredients until creamy. Spread over fully cooled cake layer. Refrigerate these 2 layers and then make Step 3.
Step Three:
1 cup chocolate chips
6 Tablespoons unsalted butter
Melt ingredients together over low heat. Stir until completely smooth then cool slightly. Spread over the green layer. Refrigerate, then cut with a very sharp, non-jagged edged knife and serve.