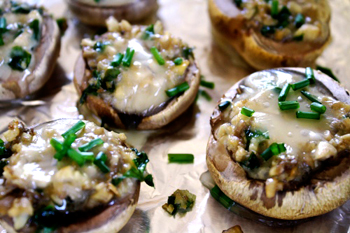 I've got to admit it – I'm a total cheese snob. I blame my foodie parents – I got wedges of brie in my preschool lunchbox when the other kids got string cheese. My first winery job, at Vihuela in downtown Paso Robles, was fabulous because we shared a space with Vivant Fine Cheese – therefore, I lived on a strict diet of wine, cheese, and baguettes for almost a year (sorry, arteries!). I learned so much from Danika, from wine and cheese pairing to the particularities of making the perfect platter – what an education!

"More Taleggio? Do I need to stage an intervention?!"
Yes, this is what Danika said to me when I was last in her shop. My mom and I have been obsessed with Taleggio lately! We usually just eat it on slices of baguette or on Triscuits, but this weekend I decided to get creative and tried it on stuffed mushrooms. If you like earthy, you will love this combo!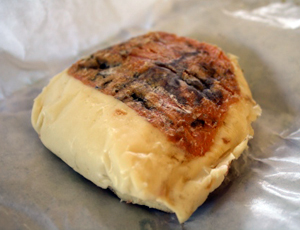 Taleggio is a soft, Italian, washed-rind cheese. A washed rind means just that – the cheese is periodically washed in a saltwater brine (or wine or beer!), which creates the ideal conditions for a red-colored bacteria to grow and impart a pungent smell and taste onto the cheese.
Taleggio is nice and stinky, but has a surprisingly mild flavor. It is great on its own, and also makes a great gourmet grilled cheese. Visit your local cheese shop and try it – I think you'll love it!




Taleggio-Stuffed Mushrooms

1/2 Tablespoon olive oil
1 pat butter
6 medium-large button mushrooms
1 clove garlic, minced
1 Tablespoon flat leaf Italian parsley, roughly chopped
Splash of white wine
1/8 lb Taleggio, rind removed and cut into cubes – whatever size will fit into your mushroom caps
Chopped chives, for garnish

Preheat oven to 350°F.

Remove stems from mushrooms and slice around gills to make a "cup" for your filling. Set caps aside. Chop stems and any other mushroom pieces you cut off.

Heat 1/2 tablespoon olive oil in a pan with 1 pat of butter. Add garlic and mushrooms, and let cook for a moment. Add chopped parsley and a splash of white wine (I used JUSTIN 2009 Viogner. Feel free to add a splash to your glass, too!) and stir until wine is evaporated.

Fill mushroom caps with stem, garlic, and parsley mixture and bake in the oven for about 10 minutes. Remove from oven, add cubes of Taleggio, and return to oven for 5 minutes.

Sprinkle with chives and let cool for 5 minutes, then serve! These will go fast!
Laura is has been cooking since she was a young girl and currently lives and works in Paso Robles, California. She share her passion for food on her blog Sweet Life Laur.