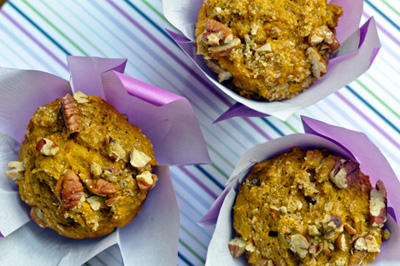 A few nights ago, I made a roast chicken, a huge salad, and some baked sweet potatoes. I ate my sweet potato and although Eli loves them, he ignored them. I couldn't waste them, so I took the skin off, tossed the potato meat into my ricer and threw the puree into the fridge. As I was cleaning out my fridge days later, I remembered the puree.
I turned to my trustee baking bible, Dorie's, Baking: From My Home to Yours
and adapted her pumpkin muffins for my left over sweet potato puree. They were perfectly light, not too dense and deliciously complimented my morning tea. The uneaten muffins went to work with Miguel. The kids were happy, I was happy and hopefully, Miguel's office will be happy, too.
Sweet Potato Muffins
Adapted from My Home to Yours
Yield 16 muffins
Ingredients:
2 cups flour
2 teaspoon baking powder
1/4 teaspoon baking soda
1/4 teaspoon salt
3/4 teaspoon cinnamon
1/2 teaspoon ground ginger
4 oz. unsalted butter, room temperature
1/2 cup sugar
1/4 cup light brown sugar
2 large eggs
1/2 teaspoon vanilla
3/4 cup sweet potato puree
1/4 cup buttermilk
1/3 cup dried cranberries
3/4 cup chopped pecans, toasted
Instructions:
Preheat oven to 400°F. spray 16 muffin tins. Place the muffin tin on a baking sheet.
Whisk the flour, baking powder, baking soda, salt and spices.
In a standing mixer fitted with the paddle attachment, beat the butter until soft. Add both sugars and beat until smooth.
Add the eggs, one at a time and then the vanilla. Add the puree and the buttermilk.
With the mixer on low speed, add the dry ingredients, don't over mix. Stir in the dried cranberries, and 1/2 cup of pecans.
Scoop into each muffin cup. Sprinkle with remaining 1/4 cup of pecans.
Bake for about 25 minutes or until a thin knife inserted into the center of the muffins comes out clean. transfer the pan to a wire rack and cool the muffins for 5 minutes. carefully remove each muffin from the pan and cool on a wire rack.
Susan Salzman writes The Urban Baker blog to explore her dedication to good food in the hope of adding beauty to the lives of her family and friends.