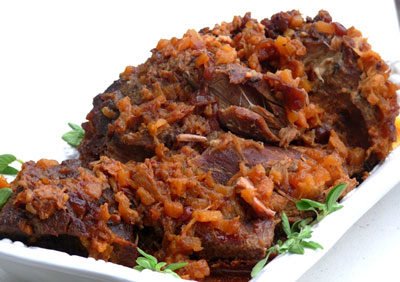 What a meal. Busy life = slow-cooking meat = happy family.

Again, I am embracing the slow-cooker. It's saving me! However, have you ever been home all day while the slow-cooker is going? Or worse asleep at night while it's cooking? I feel like I snack more while those amazing smells are wafting from the kitchen. Then the kids come home from school and whine until dinner because they smell the food too. And want it. Oh well, a small price to pay for an awesome meal.

This pork, is melt in your mouth delicious. And you can literally throw it together in 5 minutes and be on your merry way. When you get home you will have a fabulous, slightly sweet and savory meal that goes QUITE well with mashed potatoes. And there is so much juice to pour over the meat, leaving it moist and yummy. Ah, bliss.

We will be doing this one again and again this winter.
Slow-Cooker Roast Pork with Cranberry-Pineapple Sauce
Serves six

1 boneless pork roast, about 4 to 5 pounds, remove any string that might be holding it together
Kosher salt and fresh ground pepper
Garlic powder
1 (20 ounce) can crushed pineapple
1 can whole berry cranberry sauce
1/4 teaspoon ground cloves
1/4 teaspoon ground nutmeg
1/2 teaspoon Kosher salt

Remove any string that be tying the pork and pat the roast dry. Season the roast with Kosher salt, pepper and garlic powder. (Get the seasoning in all the crevices). Place roast in the slow-cooker.

In a large bowl mix together pineapple, cranberry sauce, nutmeg, cloves and 1/2 teaspoon Kosher salt. Pour over the pork in the slow-cooker. Cover and cook for 7.5 hours on low.

Serve slices of pork with sauce spooned over top.
Cathy owns a vineyard and winery in the Willamette Valley of Oregon. She is a food writer forDavis Life Magazine and blogs daily about wine, food and everyday living. She lives with her husband and two sons. You can visit her at noblepig.com.