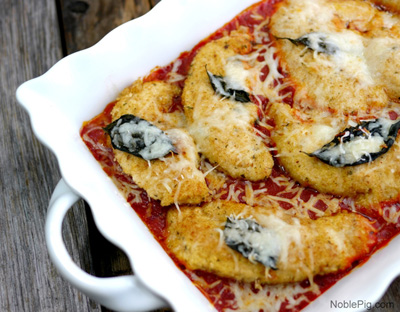 Weeknight dinners can be daunting if you are working all day or chasing kids around after school. We have been in the middle of basketball season, which means, three nights a week it is chaos at dinnertime. Mostly because the kids are starving by the time they get home.

Everyone here loves chicken Parmesan, but I don't really have time on a weeknight to pound out chicken breasts, make red sauce and shred several kinds of cheese. As a result, I have come up with an alternative, quick method everyone in my family really enjoys. The best part, I can literally throw this together after a basketball game and it's ready in no time.

The only thing I have to remember is take out a package of tenderloins from the freezer in the morning. I buy them in bulk at Costco.
Using chicken tenderloins instead of breasts means they do not need to be pounded and flattened and they cook really quickly. I dip them only in egg and Italian breadcrumbs, which are already seasoned and finely ground. I place them in a skillet for just a few minutes to brown on each side.
Our favorite brand of bottled marinara goes into the bottom of a baking pan and the tenderloins go right on top in the sauce.
I use Sargento 6 Cheese Italian shredded cheese to sprinkle over the tenderloins and some fresh basil leaves. In the past my chicken Parmesan has included several types of cheese, which can be very time consuming when it comes to shredding it all. This is such a time saver. Only 15 minutes in the oven and it's baked to perfection.
Simple Chicken Tenderloin Parmesan
Recipe from: Created by Cathy Pollak for NoblePig.com | Serves: 4
Ingredients
1/2 cup

Italian seasoned bread crumbs

1 large

egg, lightly beaten

1-1/4 pounds

chicken tenderloin

1 cup

marinara sauce (the thicker the better)
Directions
Preheat oven to 375 degrees F.
Add bread crumbs to a shallow bowl. Dip tenderloins in egg, shaking off any excess. Coat with bread crumbs and place on a plate.
Add marinara sauce to an 11 x 7 baking pan. Heat oil in a large nonstick skillet over medium heat. Add half of the tenderloins, cooking on each side 1-2 minutes or until slightly golden. Remove and place in baking pan on top of marinara. Repeat with second batch of chicken.
Place one basil leave on top of each tenderloin and sprinkle cheese evenly over the pan. Bake for 15 minutes and serve immediately.
~Serve with a side of pasta and a green salad for the perfect, quick and easy meal.
Cathy owns a vineyard and winery in the Willamette Valley of Oregon. She is a food writer forDavis Life Magazine and blogs daily about wine, food and everyday living. She lives with her husband and two sons. You can visit her at noblepig.com.