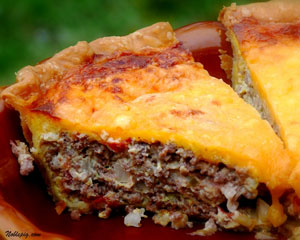 My oldest son saw this in a magazine and instantly proclaimed he wanted it for dinner. I was rather surprised as most kids, including my own, don't like food that is touching or mixed up. In other words, casseroles are usually out.

But when my kids see something they want me to make, I usually oblige. However, I can't even begin to imagine what the calorie count is here. Actually, I don't even care. Moving on.

I have to admit this quiche is pretty cool, it does taste exactly like a cheeseburger. A bacon cheeseburger. You have a crust in place for the buns and this thick slab of cheese on top, meat in the middle and what makes it most authentic tasting is the dill pickle relish. The relish just gives it that "cheeseburgeresque" taste. Leaving it out would be a mistake. A big mistake.

Your first bite will surprise you as your mind is seeing quiche but you are tasting burger. I even wanted to squirt some ketchup on the side for a little dip. I think I'll try that tomorrow.

If you happen to have a man who will not eat quiche, well, I think he'll be happy with this one. Give it a try.
You could easily garnish this with extra ingredients like, additional pickle relish, crumbled, cooked bacon, chopped onion and tomato, mayonnaise and shredded lettuce.

Roadside Diner Cheeseburger Quiche
Adapted from Taste of Home

1 refrigerated pie crust (or make your own or use a frozen deep-dish pie shell)
3/4 lb. ground beef
2 plum tomatoes, seeded and chopped
1 medium onion, chopped
1/2 cup dill pickle relish
1/2 cup crumbled cooked bacon
5 eggs
1 cup heavy whipping cream
1/2 cup milk
2 teaspoons prepared mustard
1 teaspoon hot pepper sauce
1/2 teaspoon salt
1/4 teaspoon pepper
1-1/2 cups (6 oz.) shredded cheddar cheese (I used extra sharp)
1/2 cup shredded Parmesan cheese
Optional garnishes: Additional pickle relish, crumbled cooked bacon, chopped onion and tomato, mayonnaise and shredded lettuce

In a large skillet, cook beef over medium heat until no longer pink; drain. Stir in the tomatoes, onion, relish and bacon. Set aside.

In a large bowl, whisk the eggs, cream, milk, mustard, pepper sauce, salt and pepper. Set aside.

Unroll pie crust into a 9" deep-dish pie plate (make sure it's deep dish, otherwise, the mixture will not fit) and flute the edges. To make refrigerated pie crust fit into a deep-dish plate, roll it out a little bit more with a rolling pin. You can make your own pie crust or purchase frozen deep dish pie crusts; just make sure it's completely thawed out. Transfer meat mixture into prepared crust. Pour egg mixture over the meat and use a fork to move the meat around, letting the egg mixture settle in between. Sprinkle with cheeses.

Bake at 375 degrees for 45-60 minutes or until a knife inserted near the center comes out clean. If necessary, cover edges with foil during the last 15 minutes to prevent overbrowning. Let stand for 15 minutes before cutting.
Cathy is currently in the development stages of her vineyard and winery in the Willamette Valley of Oregon. She is a food writer for Davis Life Magazine and blogs daily about wine, food and everyday living. She lives with her husband and two sons. You can visit her at noblepig.com.