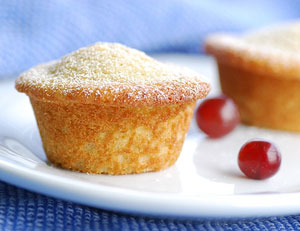 Prior to blogging, I rarely made muffins. OK, I never made muffins. Now I find it difficult to go a week or more without baking some. There are so many things to love about muffins: They're easy to make. They're endlessly versatile. And, unlike many baked goods, they're portion controlled. (That is, as long as you don't eat two or three per sitting.)
While I enjoy baking traditional muffins like my Mom's Jordan Marsh Blueberry Muffins, I really love to play around with ingredients and concoct unique muffins such as Fresh Apricot and Kiwi and Coconut.
Up until a few weeks ago, however, I had never made muffins with red grapes. I mean, red grapes in muffins? Is that natural? Oh, it's beyond natural. It's extraordinary. I should know. I have made them three times within the past few weeks, including for a brunch, where they received rave reviews.
These wonderfully moist muffins are laced with fragrant, subtly sweet wine and punctuated with juicy, red grapes. They're lovely as a midday snack with a cup of tea and even work well as an appetizer or light dessert when paired with a glass of wine and some cheese.
Sweet Wine and Red Grape Muffins
Makes 6 jumbo or 12 regular sized muffins
Here is the original recipe for Individual Grape and Vin Santo Cakes on epicurious.com.

Note: The original recipe calls for a jumbo/Texas muffin pan. Since I don't have one, I used a 12-cup regular muffin tin. I was only able to fill 11 cups, so I filled the 12th cup with a little water while they were baking.

1 1/2 cups plus 1 tablespoon all-purpose flour, divided
1 1/2 teaspoon baking powder
1/2 teaspoon baking soda
1/4 teaspoon salt
1 stick unsalted butter, softened
2/3 cup plus 2 tablespoons granulated sugar, divided
2 large eggs
1 tablespoon orange zest
2/3 cup sweet wine (I like Rieisling and Muscata)
1 cup seedless red grapes

confectioners' sugar for garnish

1. Place a rack in the middle of the oven, and preheat to 375 degrees F.

2. Whisk together flour, baking powder, baking soda, and salt.

3. Beat butter with 2/3 cup sugar using an electric mixer on medium speed, until light and fluffy. Add eggs one at a time, beating well after each addition. Beat in zest.

4. Add flour mixture in two batches, alternately wtih wine, beginning and ending flour, mixing until just incorporated.

5. Toss grapes with remaining tablespoon flour, then fold into batter.

6. Divide batter among muffin cups. Sprinkle with remaining 2 tablespoons sugar. Bake until golden and springy to the touch, 18-20 minutes. Cool in pan 5 minutes, then loosen with a knife, and remove. Cool to warm, 5-10 minutes more. Dust with confectioners' sugar before serving.
Susan Russo is a free lance food writer in San Diego, California. She publishes stories, recipes, and photos on her cooking blog, <Food Blogga and is a regular contributor to NPR's <Kitchen Window. She is also the author of two upcoming books that will be published in the fall of 2010.