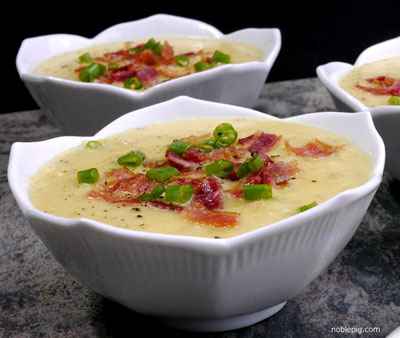 I have made four turkey dinners this month, needless to say I have had a lot of leftover mashed potatoes in the fridge! They are never really the same when reheated, so it was time to turn them into something totally different.
Since the mashed potatoes are already seasoned, they are the easiest thing to turn into soup. In fact, regardless of what you have added to them flavor wise, it's most likely going to work. Potatoes are versatile that way.
Anyway, I had this simmering on the stove and my oldest son insisted on having it as an after school snack, he loved it. It's delicious and naturally thick. It takes only minutes to make since the potatoes are already cooked and you're really just heating them through.
This will be a great way to use up holiday leftover mashed potatoes or you just might find yourself making extras just so you have leftovers. Either way, enjoy this dish.
Mashed Potato Cheese Soup
Recipe created by Cathy Pollak for NoblePig.com | Serves: 6-8
Ingredients:
2 Tablespoons butter
1 large shallot, finely chopped
1 large clove of garlic or two small, pressed
2 Tablespoons all purpose flour
6 cups leftover mashed potatoes
2 cups chicken stock
3/4 cup half and half
8 oz shredded extra sharp cheddar cheese
salt and pepper to taste*
Cooked Bacon and green onion for garnish, optional
Directions:
In a large, heavy pot, melt butter over low heat. Add shallots and saute until soft, about 4-5 minutes. Press garlic into mixture and saute for another 30 seconds. Add flour and stir until fully combined.
Add potatoes and stir onion mixture until fully combined. Add chicken stock and cream and stir well. Heat soup through over med-low heat, about 10 minutes. Stir frequently. Add cheese and combine until melted. Season with salt and pepper.
Garnish each bowl with cooked bacon and green onion if desired.
*Final seasoning of the soup will depend on how seasoned your mashed potatoes were from the start. Also, if soup is too thick, you can always thin with more chicken stock or half and half.
Cathy owns a vineyard and winery in the Willamette Valley of Oregon. She is a food writer forDavis Life Magazine and blogs daily about wine, food and everyday living. She lives with her husband and two sons. You can visit her at noblepig.com.