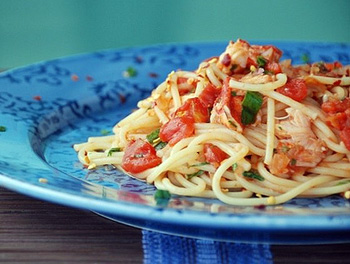 Lobster's back. First there was creamy lobster risotto for Father's Day. Now it's Lobster Fra Diavolo, a treasured Italian-American dish characterized by a spicy sauce for pasta or seafood.
Fra Diavolo, was the king of pasta in the 1990's. (I know this because it was Jeff's favorite entree to order at a "nice" restaurant when we were dating.)
The last time Jeff ate lobster fra diavolo, Whitney Houston's "I Will Always Love You" was a number one hit. Though Jeff will always love lobster fra diavolo, he doesn't feel similarly toward Whitney, so I decided not to invite her to our lobster dinner.
I played Sinatra, our oldest and most favorite crooner, instead because Italian food always tastes better with ol' blue eyes.
Lobster Fra Diavolo
Serves 2
1 (1.25 pound) live lobster
2 teaspoons olive oil
2 shallots, diced
1 (14.5 ounce) can diced or crushed tomatoes, preferably San Marzano
1/2 cup dry white wine
1 teaspoon dried crushed red pepper flakes
2 teaspoons fresh oregano, chopped
1 tablespoon fresh Italian parsley, chopped
1 tablespoon fresh basil leaves, chopped
salt, to taste
1/4 pound spaghetti
Bring a large pot (big enough to submerge the lobster completely) of salted water to a boil. To kill the lobster, hold a butcher knife over its head, about an inch behind its eyes; puncture and slice forward in one motion. Plunge the lobster head first into the boiling water for 7-8 minutes. The shell should be bright red, though the meat will finish cooking in the risotto. Remove the lobster from the pot, rinse, and allow to cool.
To remove the meat, twist off the claws; crack them open with nut crackers, and extract the meat. Bend the lobster's body back from the tail until it cracks; remove it. Then push the tail meat out. Crack the lobster body open and break off the legs; use a skewer to push the meat out of the legs.
To make the sauce, heat olive oil in a large skillet over medium-high heat. Add the shallots and saute for 3-5 minutes, or until translucent. Add the tomatoes with their juices, wine and crushed red pepper. Simmer until the sauce thickens slightly, about 8-10 minutes. Meanwhile cook spaghetti in salted water for 10 minutes, or until al dente, fully cooked yet firm to the bite.Add the lobster meat to the sauce and toss well. Heat through 1-2 minutes. Add the cooked pasta to the pan and toss well. Turn off heat. Stir in the fresh herbs and season with salt. Garnish with additional fresh herbs and serve immediately.
Susan Russo is a free lance food writer in San Diego, California. She publishes stories, recipes, and photos on her cooking blog, <Food Blogga and is a regular contributor to NPR's <Kitchen Window. She is also the author of Recipes Every Man Should Know
and The Encyclopedia of Sandwiches
.