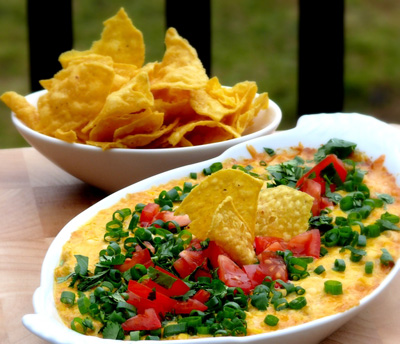 Are you looking for a little something to go with the Academy Awards? No, this dip does not emulate any of the films up for best picture. There are so many creative-Oscar food posts out there. However, if this was up for an award....OMG it would take home the trophy in every category. Yes...it is that good. It definitely falls into that "crack" dip category. This would have been amazing during football season.
Everyone's hineys will be firmly planted in front of this dip and the TV, no matter how boring the Oscars get. If you have this dip, you are set...no ball gown needed. It won't fit after you eat this dip anyway.
My favorite part of this dip is the heat that comes from the chipotle in adobo. It is the perfect amount of spice and flavor. It is what makes this dip so tasty. And addicting. It's perfecto.
Try it if you dare...but have lots of people around to share in the calorie load.
Hot Corn Dip
From Gina Marie's Kitchen
Serves 6-8
2 cups shredded cheddar cheese
1 cup shredded Monterey Jack or white cheddar cheese
2 Tablespoons chipotle peppers in adobo sauce, diced small (I used only the sauce)
1 (4 oz) can diced green chilies
1/2 cup mayonnaise
1/4 teaspoon garlic powder
1 (11-15 oz) can of corn, drained
1 small tomato, diced
Cilantro, chopped
Green onions, thinly sliced
Preheat oven to 350°F.
In a medium bowl, mix the cheeses, chipotle pepper sauce, green chilies, mayonnaise, garlic powder and corn together. Pour into an oven safe dish. Bake 20 minutes or until brown and bubbly.
Top with tomatoes, cilantro and green onions. Serve warm with tortilla chips.
Cathy owns a vineyard and winery in the Willamette Valley of Oregon. She is a food writer for Davis Life Magazine and blogs daily about wine, food and everyday living. She lives with her husband and two sons. You can visit her at noblepig.com.