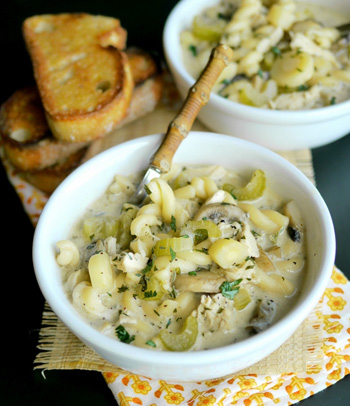 A bit of a cold spell finally hit the Pacific Northwest this past week. The rain was so nice, except it rained while we were harvesting our vineyard, not cool mother nature, not cool. We have had such an unusually hot summer so the rain was a nice change for the most part.
During the rainstorm, all I could think about was making soup. As soon as I had a free moment, I did just that.
Have you ever had creamy chicken noodle as opposed to the clear, broth kind? It's so good. The consistency is not thick like potato soup, but the creamy part adds mouthfeel. With homemade bread, it's amazing. In fact the whole family asked for seconds.
I think if you are not going to make your own stock/broth, creamy is the way to go when it comes to chicken soup. This recipe is really something you can throw together on a weeknight. In fact, the chicken can go into the broth totally frozen. And is fully cooked within 15 minutes. That is the beauty of using tenderloins. Who can beat that for a mid-week dinner?
You might be looking at this pot of soup and wondering where are the carrots? While I love carrots, the creamy version of chicken noodle tastes so much better with parsnips. They are just as sweet, if not sweeter and my family loves them.
If you have never tried parsnips, give it a go. I love mixing them with mashed potatoes too...heaven!
Feel free to use any shaped noodle in your soup. I used gemelli, which I buy at Costco. Anything would work well, even egg noodles.
Creamy Chicken Noodle Soup
Recipe Created by Cathy Pollak for NoblePig.com | Serves: 6-8
Ingredients:
64 oz chicken stock (available on the soup aisle)
1 lb skinless, boneless chicken tenderloins (okay if frozen)
2 cups peeled, sliced into coins parsnips
8 oz dry pasta noodles (any shape)
2 cups sliced celery
8 oz mushrooms, sauteed (in a little oil) and coarsely chopped
1/4 cup finely chopped fresh parsley
1 Tablespoon finely chopped fresh thyme
1 Tablespoon coarsely ground black pepper
2 Tablespoons butter
2 Tablespoons all-purpose flour
2 cups whole milk
1/2 cup heavy cream
1 teaspoon kosher salt (or to taste)
Directions:
Bring chicken stock to a boil. Add chicken (it's okay if frozen) and boil while covered until fully cooked, about 10-15 minutes. (Turn stock down to a simmer once it starts boiling after adding the cold chicken). Remove chicken and let cool until you can shred it with two forks. Set aside.
Meanwhile add parsnips and dry pasta to the boiling chicken stock, cooking pasta according to package directions. Add celery, mushrooms, shredded chicken, parsley, thyme and pepper. Keep on a low simmer until pasta and all veggies are softened, about 10-15 minutes.
In a large saute pan, melt butter and whisk in flour until fully incorporated and without lumps; continue to whisk for one minute. Pour in milk a little at a time, whisking constantly over medium-low heat. Let mixture come to a boil while continuing to whisk, cooking about 2-3 minutes more. Mixture will thicken only slightly. Turn off heat and add cream; stir. Add to simmering soup, stirring until fully incorporated. Add kosher salt to taste. Remove from heat and serve.
Cathy owns her vineyard and winery in the Willamette Valley of Oregon. She is a food writer for Davis Life Magazine and blogs daily about wine, food and everyday living. She lives with her husband and two sons. You can visit her at noblepig.com.