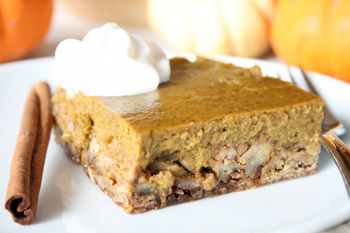 Silly words that came from car-time with my grandchildren resulted in a new cookie called Shoogie Dadders. The cookie dough is loaded with oatmeal, sweet-tart grated Haralson apple woven through and little chunks of Sugar Babies that turn to taffy in the oven. The baked cookies are sweet and chewy. They got a thumbs-up from my granddaughter who rolled the funny words "shoogie dadder" off her tongue and out of her giggling mouth.
After turning some of the third batch of dough into cookies, I got tired of baking. I covered the bowl of remaining dough and stuck it into the refrigerator. A few days later, as I was thinking of Thanksgiving, I thought about baking pumpkin-pie filling in a Shoogie Dadder crust.
I patted some of the cookie dough into a 9- x 13-inch pan, covered it with broken, toasted pecans and baked it for about 10 minutes before pouring the pumpkin filling over the top. Once baked, the filling was creamy and the crust was soft and easy to cut.
Think about some of your favorite cookies and try baking the dough with a pumpkin filling. I found that 2 cups of cookie dough was just the right amount for covering the bottom of the rectangular baking pan. If you'll be feeding a crowd for Thanksgiving, this dessert will provide more servings than a traditional pumpkin pie. And, it's so easy to prepare.
Next time you bake cookies, hold out a couple of cups of dough. Store it in the freezer until it's time to bake a pumpkin dessert for the holiday season.
Cookie-Crusted Pumpkin Dessert

2 cups Shoogie Dadder dough or your favorite oatmeal cookie dough
2 cups toasted pecan halves
4 large eggs
1/2 cup packed brown sugar
1/2 cup granulated sugar
2 (15-ounce) cans pumpkin
1 teaspoon cinnamon
1 teaspoon ground ginger
1/2 teaspoon allspice
1/2 teaspoon nutmeg
1/2 teaspoon ground cloves
1/2 teaspoon salt
1/2 cup half-and-half
1 teaspoon pure vanilla extract
Freshly whipped cream, for serving
Use fingers to press cookie dough into a lightly greased 9- x 13-inch pan, evenly covering the bottom of the pan. Break pecan halves and sprinkle evenly over the dough. Lightly press the pieces into the dough. Bake in preheated 350-degree oven for 10 minutes.
While crust bakes, use a wire whisk to beat eggs in a large mixing bowl. Whisk in brown sugar and granulated sugar. Add pumpkin and whisk to blend. Mix in spices and salt. Gently whisk in half-and-half and vanilla extract.
Remove partially baked crust from oven. Pour pumpkin filling over the crust, spreading evenly. Return to oven. Bake for 45 to 50 minutes. Filling should be set. Cool. When dessert reaches room temperature, cover and refrigerate. Serve with a dollop of real whipped cream. Makes 12 servings.
Read about Shoogie Dadders, get the recipe and see pictures of them in my column this week. Click here.
Tips from the cook
If cookie dough is sticky, wet your fingers a little before patting the dough into the pan. Toast pecan halves in a preheated 350-degree oven for 8 to 10 minutes. Immediately transfer to a plate to cool.
Sue Doeden is a popular cooking instructor, food writer and integrative nutrition health coach. She is the host of Good Food, Good Life 365 on Lakeland Public Television. Her own hives full of hardworking bees and her love of honey led to the creation of her recently published cookbook, Homemade with Honey.