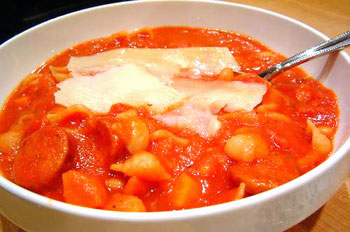 Sunday evening always marks the end of a weekend. And whatever the weekend was filled with, Sunday evening is the time to finally relax.
My weekend was a busy one. I was away from home from early Friday morning until late this afternoon. After several hours in the car, I was ready for some home-cooked food that would bring warmth and contentment.
It took only about 45 minutes to put together a pot of Thick and Hearty Soup. It could probably be called a thick Italian-style stew, as it is rich with tomato, pasta and Italian seasonings. Earlier in the week I was in Minneapolis and stopped at Trader Joe's where I picked up some fully cooked chicken and turkey spicy andouille sausage. I sliced it up and sautéed it with some chopped vegetables before pouring some chicken broth, crushed tomatoes and tomato puree into the soup pot. Little shells of pasta simmered in the pot for the last 20 minutes, thickening the soup as it cooked. I used a blend of Italian seasoning to flavor the soup. You can use your own favorites – oregano, basil, rosemary, sage or thyme are all nice choices.
A hot, crusty baguette was all I needed with my bowl of Thick and Hearty contentment. The perfect ending to my weekend.
Thick and Hearty Soup
4 fully cooked spicy turkey or chicken sausages, sliced
2 tablespoons canola oil
¾ cup chopped carrots
½ cup chopped celery
1 medium onion, chopped
2 cloves garlic, minced
1½ teaspoons Italian seasoning
3 cups chicken broth
1 (28-ounce) can crushed tomatoes
1 (28-ounce) can tomato puree
1 (15-ounce) can white beans, rinsed and drained
1 cup shell pasta
Freshly grated Parmesan cheese
Sauté sausage, carrots, celery and onions in hot oil in a large, deep pot until sausage slices are slightly browned and vegetables are tender, about 10 to 12 minutes. Add garlic and sauté for 2 more minutes.
Add Italian seasoning, giving it a pinch as you drop it into the pot. Stir in the chicken broth, tomatoes and tomato puree. Bring to a boil. Cook until mixture is heated through. Stir in beans and pasta. Simmer for 20 to 30 minutes or until pasta is tender.
Top each serving with cheese. Makes 6 servings.
Sue Doeden is a popular cooking instructor, food writer and integrative nutrition health coach. She is the host of Good Food, Good Life 365 on Lakeland Public Television. Her own hives full of hardworking bees and her love of honey led to the creation of her recently published cookbook, Homemade with Honey.