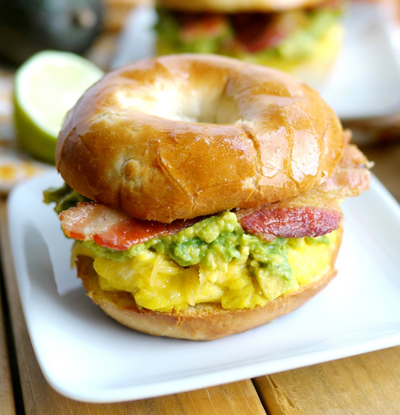 I have been making this sandwich again and again over the past two weeks and decided it's probably time to share them with all of you. Heck, just look at them...what's not to love?

Just this morning I shoved one into the hands of my oldest son as he was running out the door. Turns out it's perfect school bus food too. Lucky him. The ingredients are simple and you probably already have most of them at home.
My main inspiration for this recipe were my beautiful California avocados. There is rarely a day that goes by that I don't enjoy an avocado with one of my meals or as a snack. They truly are nature's butter and require nothing to make them an amazing and healthy treat. Avocados are one of the few fruits that provide good fats in our diet (3 g of mono and 0.5 g polyunsaturated fat per 1-oz. serving) and are heart healthy.

And don't be afraid to buy extra avocados and keep them in your fridge. I store mine in the crisper drawer and they keep for weeks. This means I always have a ripe avocado to use when I'm ready...which is daily. After you scramble your eggs, place them on top of your toasted bagels and sprinkle with shredded cheese. It will melt nicely on top of the hot eggs.
The whole bacon, egg and avocado trifecta is an amazing combination. I can't think of a better way to start my day. However, I must admit these little sandwiches are not just limited to breakfast. They make the perfect lunch and dinner too.
Cheesy Egg, Avocado and Bacon Breakfast Sandwich
Recipe Created for NoblePig.com | Serves: 2-3
Ingredients:
2-3 mini bagels, toasted with butter
4 large eggs, scrambled (seasoned with salt & pepper to taste)
3-4 slices crispy cooked bacon
1/3 cup shredded extra sharp cheddar cheese
1 California avocado, halved and pitted
juice of one lime
Directions:
Once bagels are toasted and eggs are scrambled, remove avocado from it's skin and smash together with the juice of one lime. (This adds a tangy flavor and keeps the avocado from turning brown.)
Place scrambled eggs on the bottom halves of the toasted bagels and sprinkle with cheddar cheese. Place smashed avocado on top of the cheese and top with bacon slices and the other half of the bagel. Serve immediately.