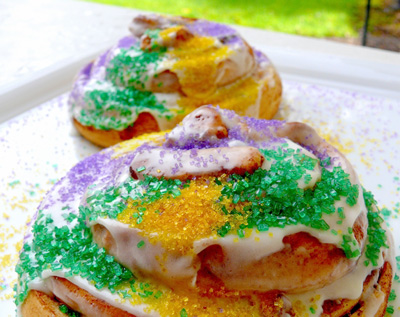 Every Mardi Gras, I have been wanting to make a King Cake for the kids. I just never seem to have the extra time. So when I came across an easy idea to make this happen, I went for it.

The King Cake is a dessert eaten all over the world in different forms and associated with the festivities of Mardi Gras, and it is no where more beloved than New Orleans.

It is normally a sweetened, yeasted bread stuffed with a cinnamon, cream cheese or praline filling and shaped into an oval ring. It is then topped with white icing and sprinkled with yellow, green and purple sprinkles. A small, plastic baby is then stuffed inside and whoever finds the trinket is declared the KING!

Anyways, this is the ultimate King Cake cheating recipe. However, if you find yourself short on time, give this a whirl. It surely tasted delicious!!
Busy Mom's Mini King Cakes
Adapted from Dash

3/4 cup golden raisins
3/4 cup apple cider, hot
2 (17.5 oz) cans jumbo cinnamon rolls with icing
3/4 chopped pecans
Yellow, green and purple sugar crystals

Preheat oven to 375o F. In a bowl, pour hot cider over raisins to plump. Let sit 5 minutes. Drain.

Unfurl cinnamon rolls. Place two strips next to each other, pinching seams to create one wide strip. Sprinkle bottom half with raisins and pecans. Fold over; press to seal.

Twist dough into a circle. Seal ends. Repeat with remaining rolls. Bake cakes a few inches apart on a greased baking tray for 17-20 minutes. While they are warm ice them and sprinkle with sugar crystals.
Cathy owns a vineyard and winery in the Willamette Valley of Oregon. She is a food writer for Davis Life Magazine and blogs daily about wine, food and everyday living. She lives with her husband and two sons. You can visit her at noblepig.com.