I resisted Facebook for years, but the ease with which I could share and view pictures of a high-school reunion compelled me. So like most people my age, I found myself using the site to reconnect with a past I had previously ignored or forgotten. Then, when my husband passed away suddenly a little more than a year ago, Facebook became a strange lifeline during my first year of grief. Frankly, being on Facebook makes me think about what it must be like to be dead, floating like a ghost into and out of people's lives, into and out of all the worlds we've inhabited. The compression and conflation of time that Facebook provides makes way for the beguiling draw of nostalgia.
Nostalgia, like grief, is essentially homesickness, and we tend to get homesick when we want to restore the parts of ourselves we think we are losing or have lost. Soon enough, I found myself looking up my old summer camps, my old junior high school (that's what we New Yorkers called middle school), and inevitably I discovered a Facebook page dedicated to Riverdale, the small northwest Bronx neighborhood where I spent my formative years.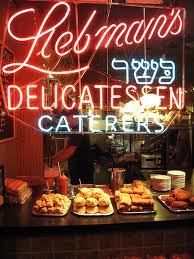 Most of the comments on the page were about the food we all grew up loving: the overstuffed egg rolls at Golden Gate or the sticky spare ribs at Bosun; the knishes, the specials (thick, hot dog links), and the mile-high turkey sandwiches at Liebman's Deli; the restaurant-quality cheesecakes supplied by S & S Cheesecake; Stella D'Oro's baked ziti and Angelo's pizza; Goldman's Luncheonette and their old-school wall of comics and candy vs. Blue Bay Coffee Shop and it's new-school, Greek isle flavor.
The memory-laden descriptions my peers shared on this page were nothing if not appetizing. With their verbal snapshots, I could picture the enormous fish tanks and Harry the head waiter in his little red jacket at Golden Gate; I could smell the pickles and pastrami that would make any mouth water upon setting foot into Liebman's; but when Mother's Bakery came up as the favorite neighborhood bakery, and it happened to be right next to Liebman's, all we could talk about was the central attraction for many of us: the Black and Whites, enormous cake-like cookies coated in two even swaths of icing – one chocolate, the other, vanilla, hence the cookie's name.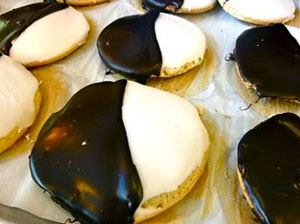 Given my predilection for these pastries (or as my husband Mike used to call them, "hubcaps with frosting"), when someone posted a picture of a Black and White on the Riverdale page, I jumped into the discussion. While I recognized some of the names with whom I was chatting up a storm about the perfection of a Mother's Black and White--the crumbly dough, the creamy texture of the icing, the chocolaty chocolate, the cloying vanilla – there was one name I did not know, but his funny comments were as irresistible as the cookies.
I clicked onto his name and up came his picture – ah, the glory of Facebook – and though he was no one I recognized, we struck up a conversation not only about our memories of the enormous gooey confections and our current hunger for them, but we spoke of candy stores, record shops, hippie hangouts, apartment buildings, schools, teachers, and all other things Riverdale. I never knew this man when we were kids growing up in Riverdale, yet here I was talking to someone who knew my every childhood footfall, who had the same teachers, whose mother went to the same beauty parlor as mine, who swam in the same pools during the sticky summers, and who has also lived here in Southern California for the last 30 years.
Naturally we became fast friends, reveling in that age-old New Yorker brand-loyalty and love of all things nostalgic. Everything old is new again in this timeless, virtual world of Facebook, including my love of Black and Whites. Now if someone can find a way to negate the calories ingested, in part, for the purpose of nostalgia, we'll really be in business.
Pamela Felcher is the English Department Chair at Hamilton High School's Music and Arts Magnet.