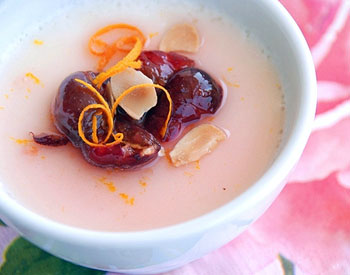 Panna cotta or "cooked cream" is a popular Italian dessert made from cooking milk, cream, sugar, and gelatin. It makes a luxurious dessert for Father's Day or any other special occasion. Be warned: panna cotta's silky texture and rich flavor will make even the manliest of men swoon. He may even say strange things like, "heavenly," "sublime," and "decadent."
This is normal. However, if this behavior continues for more than a few hours, don't panic. Turn your television on to the Speed Channel, gently lead your man to the sofa, and seat him there with a Slim Jim and a Coors Light. In a few hours he'll be making sense again.
There are myriad recipes for panna cotta, but I used Helen's (everyone's favorite tartelette). Helen claimed this panna cotta was "easy-peasy," and she wasn't kidding.
It took minutes to make, then it was placed in the fridge to set. It's endlessly versatile as well; I added almond extract to mine since almonds and cherries are so lovely together. But feel free to experiment with your own favorite flavors.
So make Dad some panna cotta this weekend. It's much more impressive than a sundae but still has a cherry on top.
Almond Panna Cotta with Glazed Cherries
Makes 4 small servings.
Panna Cotta:
1 cup whole milk
1 cup heavy cream or half and half
1/2 cup granulated sugar
1/2 teaspoon almond extract
2 teaspoons powdered unflavored gelatin bloomed in 2 tablespoons water
Cherries:
3/4 cup fresh pitted cherries
1/2 cup sugar
1/4 teaspoon pure almond extract
1/4 teaspoon orange zest
1/2 teaspoon water or orange juice
In a small saucepan over medium-high, combine milk, cream, and sugar; bring to a boil. Stir in the almond extract. Remove from heat, and let stand for 20 minutes. Pass the mixture through a sieve. Microwave the gelatin for 8 seconds, and stir it in the cream mixture. Divide evenly among 4 small ramekins or other servings dishes. Cover with Saran Wrap, and place in the refrigerator for at least 3 hours.
To make the sauce, combine all ingredients in a small pan over medium-heat high. Bring to a boil, then simmer for about 10 minutes, until the sauce is slightly thickened. Leave at room temperature or refrigerate if making ahead. Just slightly re-heat it before serving, as it will thicken when chilled.
For an alternate presentation, you can flip the panna cotta upside down on a plate and spoon the glazed cherries on top.
Susan Russo is a free lance food writer in San Diego, California. She publishes stories, recipes, and photos on her cooking blog, <Food Blogga and is a regular contributor to NPR's <Kitchen Window. She is also the author of Recipes Every Man Should Know
and The Encyclopedia of Sandwiches
.