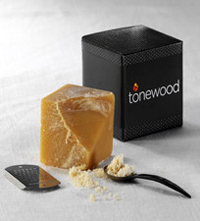 If I had to make a shopping list based on what I tried at the Winter 2015 Fancy Food Show, here is what I would recommend buying.
I thought I knew something about maple syrup, but now after talking to Dori Ross of Tonewood Maple I know so much more. Tonewood Maple has gotten some serious attention for their solid maple cube that you can shave to create maple sugar, but it was their single estate varietals of maple syrup that blew my mind. When processed separately (something that doesn't happen everywhere) you get amazing differences in the flavor. Each bottle is labeled with the actual sugarbush it came from. Some are sweeter, others earthier or even a little spicy. They also make a maple cream, which is something I discovered in Canada. On the East Coast it's fairly common, but I've never seen it out here. It's a creamy spread made only from maple that you would swear has butter in it. It's great on toast, pancakes or waffles. They also have a maple tree adoption program that gives you an opportunity to support small maple producers and sustainable farming practices, and bottles of four grades of syrup.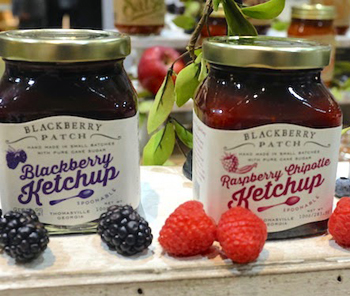 Some years I see a lot of fancy ketchup, this year I didn't, but a few unusual ones stood out nonetheless. Traina Foods makes ketchup with sun dried tomatoes. They are richer, less sweet, more intense and fresher to me than conventional brands, but can definitely be used the same way you'd use any other ketchup. This year they released a sun dried tomato and sriracha ketchup. Their ketchup has higher concentrations of lycopene and less sugar and salt than other varieties, and is gluten free. I tried it on a spoon but can't wait to experiment cooking with it.
Blackberry Patch is now offering fruit ketchups. I tried the raspberry chipotle, blackberry and blueberry. These can also be used just like regular ketchup, but have a much more sophisticated flavor. They are tangy and you really taste the fruit. I would use them as a glaze on lamb, pork or even chicken. The company is owned and operated by two farmers and everything is made in small batches.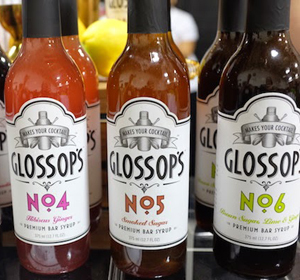 I've been a fan of Sonoma Syrup for ages. I particularly love the lavender simple syrup with sparkling wine. They also make my favorite vanilla extract and "crush", a combination of Tahitian and Madagascar beans. Their latest product is a mixer, the Olive Mary Mix, which is basically a bloody mary mix but with olive juice, from a dirty martini. It's briny and spicy and combines the best of two great cocktails in one!
Glossops is new simple syrup company and I particularly liked two of their flavors. One was Hibiscus Ginger and other was Smoked Sugar. These both scream to be used in cocktails. They are unusual and a bit exotic, but easy to love.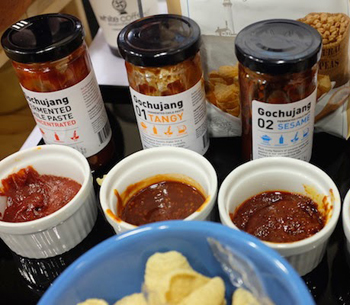 I sang the praises of Mother In Law's kimchi from them moment I tried their wares at the Fancy Food Show a few years ago. This year they are introducing gochujang which is a fermented chile sauce used in lots of Korean dishes. I have some in the refrigerator but I've never been a big fan. Until now. Mother In Law's gochujang varieties in tangy, sesame, and garlic are out of this world! I could eat these "everything sauces" with a spoon. They aren't sticky but smooth, luscious and robust. These will become your go-to Korean sauces.
I've tried a lot of flavored hummus but none that impressed me as much as the organic ones from Hope Foods. They use high pressure processing which allows for 2-4 times the shelf life of other products and they use no preservatives. My favorite is their Thai Coconut Curry hummus, but I also really like the spicy avocado, kale pesto and jalapeño cilantro varieties. Each had just the right amount of kick. They also make some very good black lentil dips. I will be trying to recreate those at home.
I tend to prefer plain Greek yogurt so I can add my own flavorings. But Fage does make some really good flavors. This year I tried their split cup with blood orange and also their fruyo blackberry lime which comes premixed. They were not too sweet and really bright. I really do like a bit of sour with something sweet.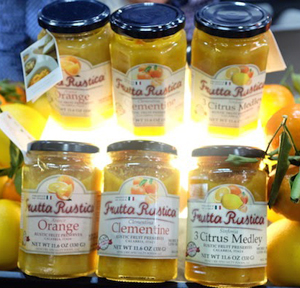 Frutta Rustica is a brand of citrus preserves. There is orange, clementine and citrus medley (oranges, clementines and lemons). The orange is good, but the clementine and citrus medley are outstanding. These preserves are thicker with much more fruit than marmalade, up to 82% fruit, all gathered from within nine miles of the facility where it's processed. All the preserves are made with only fruit and sugar, made within 24 hours of the fruit being picked from the trees in Calabria. The freshness really shines through. Use it on toast or with cheese.
I also discovered some very high quality and luscious French preserves from Lucien Georgelin imported by KL Foodways. The apricot is 65% fruit and the orange, lemon and grapefruit preserves is 55% fruit, both were outstanding. I cannot begin to tell you how fresh and bright these jams are. They come from Lot-et-Garonne, in Aquitaine and are made very traditionally in copper pots, in small batches. You can find them at Market Hall Foods.
And another thing—KL Foodways is also bringing honest to goodness mustard oil into the US that is specifically for culinary use (it's also available at Market Hall Foods). If you've looked for it in the past you may know it has been nearly impossible to find. It's a key ingredients in mostarda and also some Indian recipes.
Amy Sherman is a San Francisco–based writer, recipe developer, restaurant reviewer and all around culinary enthusiast. She blogs for Epicurious , Bay Area Bites and Cooking with Amy .