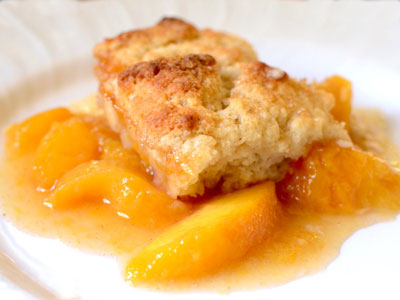 Fruit Filling:
2 1/2 pounds peaches, ripe but firm (6 to 7 medium)
1/4 cup granulated sugar (1 3/4 ounces)
1 teaspoon cornstarch
1 tablespoon lemon juice from 1 lemon
pinch table salt
Biscuit Topping:
1 cup unbleached all-purpose flour (5 ounces)
3 tablespoons granulated sugar
3/4 teaspoon baking powder
1/4 teaspoon baking soda
1/4 teaspoon table salt
5 tablespoons unsalted butter (cold), cut into 1/4-inch cubes
1/3 cup plain whole-milk yogurt
2 teaspoons turbinado or granulated sugar
1. Adjust oven rack to lower-middle position and heat oven to 425 degrees F.
2. Peel peaches, then halve and pit each. Using small spoon, scoop out and discard dark flesh from pit area. Cut each half into 4 wedges. Gently toss peaches and sugar together in large bowl; let stand for 30 minutes, tossing several times. Drain peaches in colander set over large bowl. Whisk 1/4 cup of drained juice (discard extra), cornstarch, lemon juice, and salt together in small bowl. Toss peach juice mixture with peach slices and transfer to 8-inch-square glass baking dish. Bake until peaches begin to bubble around edges, about 10 minutes.
3. While peaches are baking, in food processor, pulse flour, 3 tablespoons sugar, baking powder, baking soda, and salt to combine. Scatter butter over and pulse until mixture resembles coarse meal, about ten 1-second pulses. Transfer to medium bowl; add yogurt and toss with rubber spatula until cohesive dough is formed. (Don't overmix dough or biscuits will be tough.) Break dough into 6 evenly sized but roughly shaped mounds and set aside.
4. After peaches have baked 10 minutes, remove peaches from oven and place dough mounds on top, spacing them at least 1/2 inch apart (they should not touch). Sprinkle each mound with portion of remaining 1 teaspoon sugar. Bake until topping is golden brown and fruit is bubbling, 16 to 18 minutes. Cool cobbler on wire rack until warm, about 20 minutes; serve.
- Recipe courtesy of James Moore