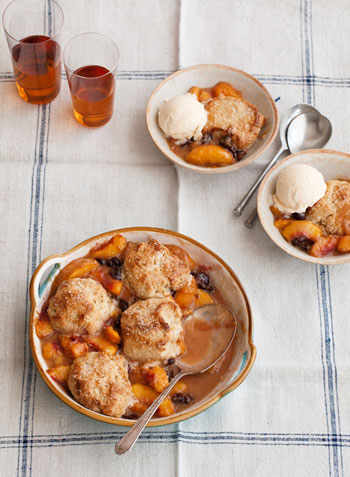 Adapted from a recipe by Aida Mollenkamp
Biscuits:
1 cup plus 2 tablespoons all-purpose flour
2 tablespoons packed light brown sugar
1 ½ teaspoons baking powder
¼ teaspoon baking soda
1/8 teaspoon salt
4 tablespoons unsalted butter, frozen
¼ cup sour cream
2 tablespoons heavy cream
Filling
¼ cup all-purpose flour
½ cup packed light brown sugar
¼ cup granulated sugar
1/8 teaspoon salt
1 vanilla bean, split and scraped, seeds reserved
1 ½ pounds fresh peaches, pitted and cut into sixths
1 cup of dried tart cherries (you can find them here)
Topping
2 teaspoons sour cream
1 tablespoon granulated sugar
Preheat oven to 375˚F and arrange a rack in the middle.
For the Biscuits: Combine the flour, brown sugar, baking powder, baking soda and salt in a mixing bowl and whisk to blend thoroughly.
With a large box grater, grate the frozen butter into the flour mixture using the large holes and then toss to coat. Smear in the sour cream and heavy cream and knead until the dough comes together with your hands. Divide into six pieces and flatten into disks; cover and reserve in the fridge.
For the fruit filling: In a large bowl, mix together flour, brown sugar, granulated sugar, salt and vanilla seeds. Add peaches and dried cherries and mix until the fruit is evenly coated.
Put the fruit mixture into a 2-quart baking dish and top with the biscuit dough evenly across the top.
To Assemble: Brush the tops of the biscuits with sour cream and sprinkle with sugar. Bake until the filling is bubbling, the peaches are tender when pierces with a knife and the biscuits are golden brown and cooked through, 30 to 35 minutes. Let cool before serving. Serve with a generous scoop of vanilla ice cream.
-- Recipe courtesy of MattBites.com