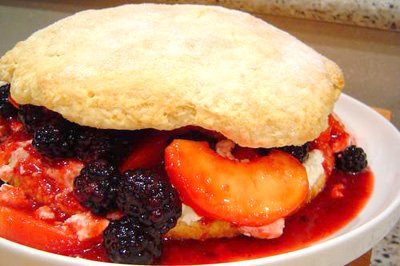 PB&C Summer Dessert Sandwich
Fruit:
12 ounces (about 3 cups) fresh blackberries, gently rinsed and drained
1/2 cup of sugar
Juice of 1 lemon
3 large peaches, pitted, peeled, and thinly sliced
Shortcake:
2 1/2 cups unbleached all-purpose flour, plus more for dusting
1 tablespoon baking powder
1/2 teaspoon salt
3 tablespoons plus 2 teaspoons sugar
8 tablespoons (1 stick) unsalted butter, chilled, cut into large chunks
2/3 cup whole milk, chilled
1 egg
1/2 teaspoon pure lemon extract
Finely grated zest of 1 lemon
8 ounces mascarpone cheese (or freshly whipped cream)
Preheat the oven to 375 degrees F. Lightly butter an 8-inch cake pan.
Prepare the fruit: In a blender, puree ¾ cup blackberries with the sugar and lemon juice. Toss the puree with the peaches and remaining berries, and set aside.
Prepare the shortcake: Whisk together the 2½ cups flour, baking powder, salt, and 3 tablespoons sugar in a large bowl. Cut the butter in until the mixture resembles coarse meal (this can be done in a food processor, with a hand-held pastry blender, or with two knives).
In a separate bowl, whisk the milk, egg, lemon extract, and zest together.
Add this to the dry ingredients, and stir gently to form a soft, slightly crumbly, biscuit-like dough. Press it together and turn it out onto a lightly floured work surface. Divide the dough in half, and using the heel of your hand, press it out to form two 8-inch rounds. Place the rounds in the prepared pan, one on top of the other, separating the two layers with a light dusting of flour. Press lightly to fit. Sprinkle with the remaining 2 teaspoons sugar, and bake until lightly browned and nearly doubled in height, 20 to 25 minutes. Turn out of the pan, and allow to cool for at least 10 minutes before splitting. (The shortcakes can be made up to a day in advance, then lightly warmed before splitting and filling.)
Just before serving, split the shortcake in half, gently prying the layers apart with your fingers. Place the bottom layer on a platter, and spread the mascarpone over it. Then spoon on the fruit and juices, and set the top layer over the fruit. Cut into wedges and serve.
Mascarpone cheese can be found in most supermarkets. Freshly whipped cream can be used instead and is also delicious.
To peel peaches, just 20 to 30 seconds in a pot of boiling water, then plunged into a bowl of ice water is all it takes for the thin skin to loosen from the fruit. Grab the skin with a sharp paring knife and it easily pulls away.
- Recipe courtesy of Sue Doeden