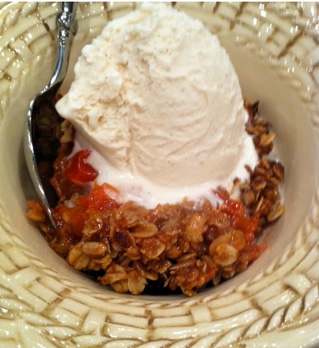 About a half dozen fresh peaches peeled and pitted and sliced (or simply quartered with the skin still on)
2 cups of fresh blackberries simply washed
A 1/2 cup of sugar…depending on the sweetness of the fruit…and another ¼ cup for the topping
3/4 cup of all purpose flower
1 cup of old fashioned oatmeal
1 – 1 1/2 cups of steel cut oats
1 cup of packed brown sugar
A stick of butter (room temperature) for topping and ½ a stick for filling
1 teaspoon of good vanilla
3/4 teaspoon of almond extract
Honey for drizzling
Pecans for added crunch (if desired)
Good vanilla ice cream – this is a must!!!
Melt the 1/2 stick of butter in a baking dish (9 x 13) in a 350 degree oven – enough time to allow the butter to start bubbling.
Peel and pit your peaches and slice them into wedges. Tip for peeling peaches…place them in boiling water for about 20 seconds then remove them to an ice bath…this stops the cooking and the skin will peel right off.
Farmer's Note: I often do not peel the peaches – they hold together nicely with the skin on and it is that much quicker to prep!
Wash your blackberries and pat dry.
Mix the two fruits together in the bubbling butter – this browns and "fries" the fruit before baking...yum! Use the 1/4 cup of sugar as well if your fruits are not sweet enough to your liking. Drizzle the fruit with honey and mix in the vanilla and almond extract.
Mix the flour, brown and white sugar, oats, and remaining butter until it resembles a course meal. Add a bit more butter if need be for desired consistency and pecans for additional crunch. Room temperature or melted butter will incorporate very well.
Spread the above mixture across the peaches and blackberries and bake at 350 degrees for about 45 minutes, or until golden and bubbly. Do serve a la mode! From this Farmer's garden and table, enjoy!
- Recipe courtesy of James T. Farmer III