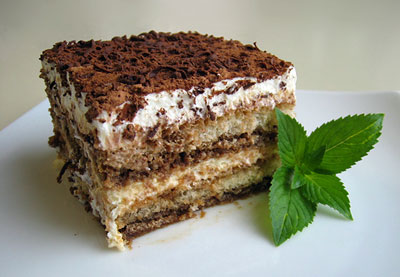 Note: Leave out the raw eggs if you are uncomfortable using them or use pasteurized eggs.
4 large eggs, separated
1 cup plus 1 tablespoon sugar
16 ounces mascarpone cheese
1-1/2 cups brewed coffee
1/2 cup coffee liqueur
40 store-bought ladyfingers
1 cup heavy cream
cocoa powder
bittersweet chocolate
In a large bowl, beat egg yolks and cup of sugar until light and fluffy. Stir in mascarpone until incorporated.
In a stand mixer fitted with the whisk attachment, beat egg whites until soft peaks form. Fold in beaten egg whites into mascarpone mixture.
In a small bowl combine coffee and coffee liqueur. Dip ladyfingers into coffee-liqueur mixture and lay in rows in the bottom of a 9-by-13-inch dish. Spread half of the mascarpone cream on top. Make one more layer of ladyfingers and the remaining mascarpone cream.
In a stand mixer fitted with the whisk attachment, beat heavy cream and tablespoon of sugar until stiff peaks form. Spread whipped cream on top.
Dust with cocoa powder and garnish with grated and/or shaved bittersweet chocolate. Refrigerate for at least 2 hours, preferably overnight. Yield: 10 to 12 slices.
- Recipe courtesy of Joseph Erdos