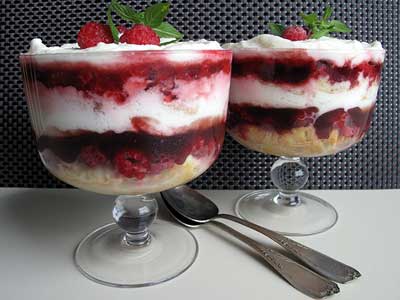 Raspberry Mini Trifles
Note: This recipe would also work well for one large trifle. Instead of using a rimmed baking sheet for the sponge cake, divide the batter between two round cake pans and bake for the same amount of time.
for the custard:
1 cup whole milk
1 cup heavy cream
5 large egg yolks
1 tablespoon cornstarch
1/4 cup confectioners sugar
1 teaspoon vanilla extract
for the sponge cake:
8 large eggs, separated
1/2 cup confectioners sugar
1/2 cup all purpose flour, sifted
for the assembly:
2 cups seedless raspberry jam
2 cups heavy cream
1/4 cup confectioners sugar
3 pints raspberries
To make the custard, combine milk and heavy cream in a saucepan; bring to a boil.
In a medium bowl, beat together the egg yolks, starch, and sugar until light and creamy. To the bowl, slowly pour the hot liquid. Whisk vigorously to prevent curdling.
Return the mixture to the saucepan and warm over low heat. Stir constantly until the mixture thickens and coats the back of a spoon, up to 10 minutes.
Strain through a fine-mesh sieve. Stir in vanilla. Chill over a bowl of ice.
To make the sponge cake, preheat oven to 350 degrees F. Butter a rimmed baking sheet, line with parchment paper, and butter again.
In a small bowl, beat together the egg yolks and sugar until light and creamy.
In a stand mixer fitted with the whisk attachment, beat egg whites until soft peaks form. By hand, fold in the egg yolk mixture and flour a little at a time until just combined. Spread evenly in the baking sheet. Bake until golden brown and springy to the touch, about 10 to 15 minutes. Let cool.
For the assembly, heat raspberry jam over low heat until runny. Add up to 4 tablespoons water if too thick.
In a stand mixer, whip heavy cream with sugar until stiff peaks form.
Cut 12 rounds out of the sponge cake to fit 6 16-ounce mini trifle dishes or large custard cups. Each mini trifle will have two layers of cake.
Fill each dish with a round of cake. Drizzle with about 2 tablespoons of custard. Line with about 1/2 cup raspberries. Spoon and spread about 2 tablespoons of jam. Spread a thin layer of whipped cream. Cake scraps can also be used in filling the dish. Repeat process again, making sure to evenly divide remaining ingredients among dishes. Chill trifles for at least 1 to 2 hours or overnight before serving.
Yield: 6 mini trifles.
Joseph Erdos is a New York–based writer and editor, butabove all a gastronomer and oenophile. He shares his passion for foodon his blog, Gastronomer's Guide , which features unique recipes and restaurant reviews among many other musings on the all-encompassing topic of food.