Kindly reprinted from Simply Recipes (and adapted from Fine Cooking) because I begged Elise if I could once I tried it. Make this and you'll understand why.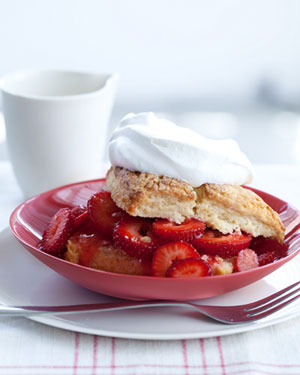 For the strawberries and the whipping cream
3 baskets of fresh strawberries. Make sure they are the best you can use!
1/2 cup sugar
Whipping cream
Vanilla
Remove the stems from the strawberries. Slice into thin (1/4″ to 1/8″) slices. Put into a large bowl. Add 1/4 cup to 1/2 cup of sugar (depending on how sweet the strawberries are to begin with) and mix into the strawberries. Set aside at room temperature to macerate. After 20 minutes, gently mash the strawberries with a potato masher. Go easy, you only want to bring out the juices and not crush the berries.
Whip the cream, adding a drop or two of vanilla and a teaspoon of sugar.
To serve, break one biscuit into big pieces and ladle strawberries on top. Add a dollop of whipped cream and a drizzle of the strawberry liquid if desired.
For the biscuits
3 cups all purpose flour
3 Tbsp granulated sugar
1 1/2 Tbsp baking powder
3/4 teaspoon salt
12 Tbsp cold unsalted butter, cut into small pieces
1 1/2 cups heavy cream
1 1/2 teaspoons vanilla extract
Sift the flour, sugar, baking powder, and salt into a large bowl. Toss with a fork to combine. Cut the butter into the flour mixture with a pastry cutter or a fork until the largest pieces of butter are the size of peas. (Or pulse several times in a food processor.) Combine the cream and vanilla in a liquid measure. Make a well in the center of the flour and and pour the cream mixture into the well. Mix with a fork until the dough is evenly moistened and just combined; it should look shaggy and still feel a little dry. Gently knead by hand five or six times to create a loose ball. Turn the dough out onto a lightly floured work surface and pat it into an 8-inch square, 3/4 to 1 inch thick. Transfer the dough to a baking sheet lined with parchment or silpat, cover with plastic and chill for 20 minutes in the refrigerator. Heat the oven to 425ºF. Remove the dough from refrigerator. Cut the dough into 9 even squares and spread them about 2 inches apart from each other on the baking sheet. Bake until the biscuits are medium golden brown, 18 to 20 minutes.
Makes 9 biscuits. (Adapted from Fine Cooking Magazine, July 2003)
-- Also published on MattBites.com