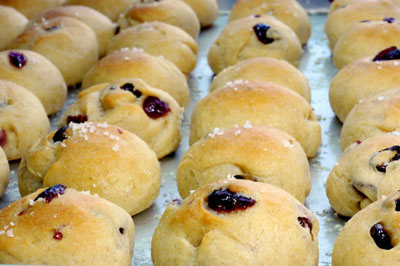 Recipe created by Cathy Pollak | Serves: 36 rolls
Ingredients:
3 cups all-purpose flour, divided
1/4 cup sugar
1 envelope active dry yeast (1/4 ounce)
1-1/4 teaspoons ground cinnamon
1/2 teaspoon table salt
9 Tablespoons butter (6 softened, 3 melted)
2/3 cup warm water (between 110-114 degrees)
1 large egg, room temp
1/2 cup dried cranberries
coarse sea salt for sprinkling
Directions:
Combine 1 cup of flour, sugar, yeast, cinnamon and salt in the bowl of a stand mixer fitted with the paddle attachment and mix on low. With the machine still on, add softened butter gradually. Continue to mix for about 2-3 minutes until the mixture is the consistency of sand. Add the warm water in a steady stream over one minutes time; scrape down the bowl. Beat in the egg for one minute more.
Remove the paddle attachment and add the dough hook. Slowly add remaining 2 cups of flour on low speed. Dough will form a ball (takes about 2 minutes). Add cranberries. Increase mixer speed to medium and continue to knead for about 5 minutes. Dough should be smooth, elastic and slightly sticky. Cover the bowl and place in a warm spot for 10 minutes.
On a lightly floured surface, divide dough into thirds. Then cut each third into 12 equal pieces and roll into balls. Brush an 11 x 17 rimmed baking sheet with 1 Tablespoon of melted butter. Arrange dough balls about 1" apart on the prepared pan. Cover with a kitchen towel and let rise until doubled in size, about 1-1/2 hours.
Preheat oven to 400 degrees F. Bake until golden brown, 12-15 minutes. Brush with remaining melted butter and sprinkle with coarse salt.
- Recipe courtesy of noblepig.com.