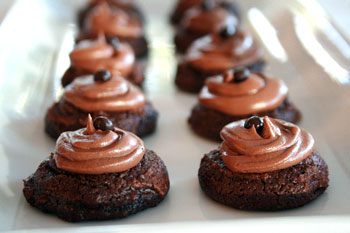 4 tablespoons butter
3 ounces unsweetened chocolate, chopped fine
2 ounces semisweet chocolate, chopped fine
1 cup sugar
2 tablespoons unsweetened cocoa powder
2 large eggs, beaten
2 tablespoons brewed coffee or Irish whiskey
1 teaspoon pure vanilla extract
½ cup all-purpose flour
½ teaspoon salt
Preheat oven to 350 degrees. Place butter, unsweetened chocolate and semisweet chocolate into a 4-cup glass measure. Microwave at 50% to 60% power. Stir after each minute until mixture is melted and smooth. This will take just a couple of minutes. Stir in sugar, cocoa powder, eggs, coffee or whiskey and vanilla extract and mix well. Add flour and salt and mix just until thoroughly blended. Refrigerate dough for at least 3 hours or overnight. At baking time, drop dough, about a heaping teaspoon per cookie, onto parchment paper-lined baking sheet. Bake 8 to 10 minutes. Transfer to wire rack to cool. Makes about 4 dozen cookies.
When cookies are completely cool, frost with Irish Coffee Frosting.
Irish Coffee Frosting
3 tablespoons unsweetened cocoa powder
2 tablespoons strong, hot coffee
1 tablespoon Bailey's Irish Cream
3 tablespoons butter, room temperature
1 teaspoon vanilla extract
1 1/2 cups powdered sugar
Chocolate Crunchy Bits, for garnish
In a medium bowl, combine cocoa with hot coffee and Irish Cream. Add butter, vanilla and powdered sugar. Beat with electric hand mixer until creamy and smooth. Use a rubber spatula to scoop frosting into a sandwich-size plastic bag. Twist the top of the bag, moving the frosting toward one corner of the bag. Use scissors to cut a small piece from one tip of the bag. Squeeze the bag to pipe frosting onto the top of each cookie. Garnish with chocolate crunchy bits, if desired.
- Recipe courtesy of Sue Doeden's All about Food.