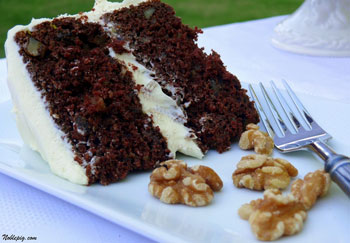 Adapted from the Capital Press

For the cake:
2-1/2 cups all-purpose flour
1/2 cup cocoa, sifted
2-1/2 teaspoons baking powder
1-1/2 teaspoons baking soda
1 teaspoon table salt
1 teaspoon ground cinnamon
3/4 cup butter, room temperature
1-1/2 cup granulated sugar
3 eggs, room temperature
2 teaspoons vanilla extract
Zest of one orange
1/2 cup whole milk
2 cups zucchini, shredded or grated
1 cup nuts, chopped (I used walnuts)

For the Cream Cheese Frosting:
2 eight-ounce packages cream cheese, room temperature
1/2 cup butter, room temperature
1 teaspoon vanilla extract
2 cups confectioner's sugar, sifted
In a medium-size bowl whisk together flour, cocoa (sifted), baking powder, baking soda, salt, cinnamon. Set aside.
Using a stand mixer or a regular mixer cream together butter and sugar until light and fluffy; about three minutes. Add eggs, one at a time, until each is fully combined. Continue to mix adding vanilla extract and the zest of one orange.
Add the flour mixture in thirds alternating with whole milk; begin and end with the flour mixture. Mix on low speed only unitl combined. Don't overmix.
Fold in zucchini and nuts.
You can make this cake in layers or in a 9 x 13 pan. I used two eight-inch pans that were greased and floured and placed into a 350 degree oven for 35 minutes or until a toothpick inserted in the middle returns clean.
Let cakes cool for five minutes in the pan and then flip them out onto wire racks to cool completely.
Once the cakes have cooled it's time to make the Cream Cheese Frosting. In a large bowl beat together cream cheese and butter and vanilla extract. Once combined continue to beat in confectioner's sugar on low speed. (If not using right away, place in the refrigerator.)
Frost completely cooled cake and place cake in the refrigerator until ready to serve.
-Recipe courtesy of Cathy Pollak