French Colonial in flavor, this dish is delicate and mild.

Crepas: Follow your favorite crepe or pancake recipe bearing in mind that if you use a pancake mix, you will need to thin mixture with more milk. Crepas should be the size of a tortilla. Crepas can be made in advance.

Béchamel sauce: Again, follow any Basic Béchamel Sauce / White Sauce recipe but perhaps add a pinch of cayenne and salt to taste.

Filling for crepas
2 cups coarsely chopped cooked chicken
I small coarsely chopped onion which has been lightly sautéed in butter (or corn oil)
2 tablespoons chopped white raisins (optional)
2 tablespoons blanched chopped almonds
a small amount of your white sauce to mix with the ingredients


Combine the above ingredients and fill crepas as if you were preparing enchiladas and place seam side down in a buttered shallow baking dish. Pour white sauce over all.
Sprinkle with any mild cheese of your choice which has been grated, and bake at 325 degrees for about fifteen or twenty minutes…until a hint of a light golden brown. (A gratin)

Serve with sour cream and pomegranate salsa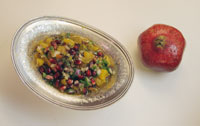 Pomegranate Salsa

Putting together a salsa is both a visual and taste driven personal choice…


Seeds from one or two pomegranates (depending on quantity)
Blood oranges, if you can find them, otherwise
One or two cans mandarin oranges gently chopped
Red onion finely chopped
White raisins soaked in tequila
1 fresh jalapeno minced (or less according to taste)
Minced cilantro
Juice of one lime
A pinch of cumin
Coyote Cocina ancho hot sauce (or your own favorite hot sauce)

Take a little of the chopped orange, either the juice from the mandarin orange tin or a spoonful of jalapeno jelly, the cumin, lime juice and your favorite hot sauce to taste and puree to create a binder.
Lightly toss together with remaining ingredients.