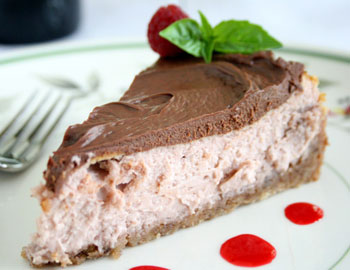 Sauce:
1 pound red raspberries
1/2 cup loosely-packed coarsely chopped fresh basil leaves
1 tablespoon sugar
Crust:
2 cups ground almond biscotti (about 9 ounces biscotti)
1/4 cup sugar
1/2 cup butter, melted
Filling:
2 (8-ounce) packages cream cheese, softened
3/4 cup sugar
3 eggs
1/4 sour cream
1 tablespoon Chambord
Squirt of fresh lemon juice
10 or 12 extra raspberries, for garnish
Topping:
Preheat oven to 350°F.
In a flat-bottomed glass bowl, mash sauce ingredients together. A hand-held potato masher works well. Set aside while preparing cake. (This can be done several hours before making the cheesecake.)
Mix crumbs, sugar and melted butter for crust. Press onto bottom and sides of ungreased 9-inch springform pan. Bake 10 minutes. Set on wire rack to cool.
Pour raspberry mixture into a fine-mesh sieve placed over a bowl. Use a spoon or rubber spatula to push the mixture through the sieve. Discard berry pulp, seeds and basil remaining in the sieve. Measure out 2/3 cup of the sauce to stir into cake batter. Store remaining sauce in refrigerator until serving time.
For filling, beat cream cheese, sugar, eggs, sour cream, Chambord and lemon juice until very smooth and fluffy. Add the reserved 2/3 cup raspberry-basil sauce. Blend well. Pour into prepared crust. Bake 60 minutes. Cool to room temperature.
To make Topping, melt chocolate in small, heavy saucepan over low heat, stirring frequently. Remove from heat. Stir in sour cream until completely blended into the chocolate. Spread on cooled cheesecake. Refrigerate several hours. Cut into wedges. Garnish with reserved raspberry-basil sauce, fresh raspberries and sprig of fresh basil. Makes 10 to 12 servings.
Tips from the cook
It's not a bad idea to put a baking sheet or large piece of aluminum foil on the rack below the baking cheesecake. There may be a few butter drips from the springform pan.
- Recipe Courtesy of Sue Doeden