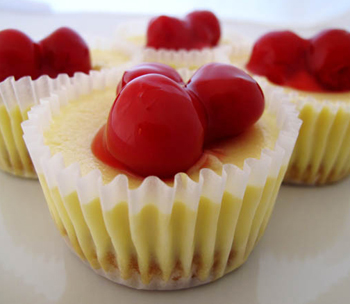 These sinfully rich, individual cherry vanilla cheesecakes would be the perfect dessert for your holiday party. The recipe couldn't be easier, and you can double or triple the amounts depending how many your serving.
24 round Keebler shortbread cookies
1/2 cup seedless raspberry jam
2(8-ounce) package cream cheese, softened
1 can (14 ounce) sweetened condensed milk
1 teaspoon vanilla
4 large eggs
1 can cherry pie filling

PREPARE CRUSTS: Adjust oven rack to middle position and heat oven to 300°F. Line a 12-cup muffin tin with cupcake liners. Place one cookie in each cupcake liner. Dollop each with 1/2 teaspoon of jam.
MAKE FILLING: With electric mixer on medium-high speed, beat cream cheese until light and fluffy, about 2 minutes. Gradually beat in condensed milk, scraping down sides of bowl as necessary, until incorporated. Add eggs, 1 at a time, and beat until smooth, 2 to 3 minutes.
BAKE CHEESECAKES: Divide batter evenly among cupcake liners. Bake until set, about 20 minutes. Transfer to wire rack and cool to room temperature, about 20 minutes. Refrigerate until set, about 1 hour.
GARNISH: Remove cheesecakes from muffin tin. Top each cheesecake with a spoonful of cherry pie filling. Refrigerate until ready to serve.
-Recipe courtesy of Cook Like James