Ingredients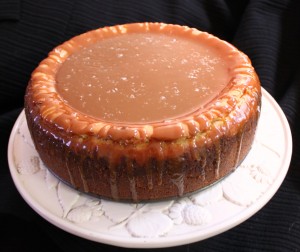 Crust:
2 cups finely ground graham crackers
3 tablespoons sugar
1/2 teaspoon cinnamon
7 tablespoons butter, melted
Cake:
3 8 oz. packages cream cheese
1/2 cup sugar
1/2 teaspoon salt
3 eggs
2 cups sour cream
2 teaspoons vanilla
3/4 cup dulce de leche
Glaze:
1/2 cup dulce de leche
2 tablespoons heavy whipping cream
Fleur de sel
Position a rack in the center of the oven and heat the oven to 375°F.
In a medium bowl, stir together the graham cracker crumbs, sugar and cinnamon. Mix in the melted butter until the crumbs are evenly moist and clump together slightly. Transfer the mixture to a 9-inch springform pan and press evenly onto the bottom and about 2 inches up the sides of the pan. Bake until the crust is fragrant and slightly darkened, 9 to 12 minutes. Let the pan cool on a rack. Lower the oven temperature to 350°F.
In a stand mixer fitted with the paddle attachment, beat the cream cheese and sugar together for a few minutes, scraping down the sides of the bowl and the paddle frequently. Add the salt, sour cream,vanilla and dulce de leche and beat until well blended and smooth.
Add the eggs one at a time, beating just until blended. (Don't overbeat once the eggs have been added or the cheesecake will puff too much and crack as it cools.) Pour the filling into the cooled crust and smooth the top.
Bake for 50-60 minutes until just set in center and edges are puffed and slightly cracked. Turn oven off, prop the oven door open slightly, and allow cake to rest in the oven for 1 hour more.
Cool cheesecake to room temperature.
For glaze: Heat dulce de leche and 3 tablespoons cream in microwave-safe bowl in 10-second intervals until melted. Stir to blend, adding more cream by teaspoonfuls if too thick to pour (amount of cream needed will depend on brand of dulce de leche). Pour glaze over cooled cheesecake; spread evenly. Refrigerate until chilled, about 8 hours before serving. Sprinkle with Fleur de Sel.
- Recipe courtesy of Alison Wonderland Tucker