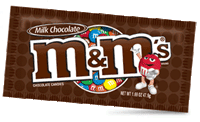 Wednesday was a special day in my house when I was a child. My father was (and still is) a pharmacist. To help make ends meet, he worked a second job on Wednesday evenings and Saturday afternoons at a local drug store instead of his usual 9-5 gig at the area hospital. Thirty years ago being a pharmacist didn't bring in the big bucks it does today and with four kids, he had his hands full. He was never home until long after dinner on Wednesdays and we were always excited for his return, partly because he brought with him our weekly chocolate treat – plain M&Ms.

This was in the days when they came in only five colors: Dark Brown, Tan, Orange, Yellow and Green. Red was one of the original colors, but had been outlawed in 1976 (due to a toxic dye scare) and wouldn't return until 1987, quickly followed by every other color under the rainbow.

Candy was rare in our household and we were thrilled to get it. My Dad only ever bought two bags, so my siblings and I were required to share, but that never diminished the joy. My younger sister and I would each grab a plastic blue teacup, pour the candy onto the countertop and divide them exactly in half, by color. Then we would scoop the luscious morsels into our cups and retreat to opposite corners of the living room to savor them in happy silence.

Since chocolate was already brown I could never quite understand why they used that color as a coating. It was boring, redundant and almost spoiled the fun since there were usually twice as many brown candies as the other colors. The bag never contained enough green and they were always fought over since their bright color boldly separated them from the rest of the pack.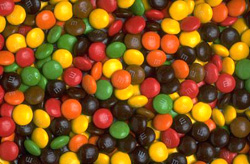 I'd always eat my M&Ms the same way, carefully picking them out of my blue cup one at a time. All the brown first, then tan, orange, yellow and finally, with great regret, the green. A sort of autumnal rainbow. It would take me twice as long to eat the 5-6 green morsels then all the brown ones put together, which I popped into my mouth without much thought, their obviousness holding no allure.
I'm not sure how the green ones became synonymous with sex appeal, but I can't say I'm surprised. Their unique color was a siren song, luring one to chocolate heaven regardless of the fact that if you closed your eyes, they all tasted the same.

This weekly ritual was, for my parents, most likely spurred on by a little bit of guilt and a big need to have a few moments of peace and quiet…after the initial shrieks of pleasure and arguments over who got what. Of course, giving kids candy after 8pm probably wasn't the best move in the long run, but it sure gave us something to look forward to every week and made my father's absence a little less bitter.

Though I don't really eat candy anymore, M&Ms are the one chocolate treat I give out on Halloween, always have on hand for Christmas (in the holiday colors, of course) and still can't resist.

Lisa Dinsmore is an amateur writer, web programmer and wine lover. She has been wine tasting throughout California for the last decade, is currently working her way up to receiving her diploma from the Wine & Spirits Education Trust and has her own wine website, The Daily Wine Dispatch.