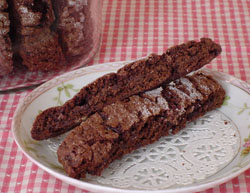 It happens every year. About a month before Christmas, I buy at least a couple of boxes of little candy canes. I have plans to hang them over the edge of cups of hot cocoa. I place a large bowl of them on the kitchen island, ready to be snatched up and chewed. There are all kinds of ways I use them during the holidays. But, it never fails. I always buy way too many. And, every year at this time, I pull out the leftover candy canes and begin to stir them into cookie dough. This year is no different. But this year, the cookies are Italian-style twice-baked cookies -- biscotti.
Mocha-Mint Biscotti get their mocha flavor from cocoa and very finely ground espresso beans. I go to may local coffee shop where they will do a Turkish grind for me. This grind is finer than an espresso grind and turns the beans into a very fine powder. Peppermint extract gives a boost of flavor to the crushed candy canes that are stirred into the dough.
I find that a sharp straight-edge knife works better than a serrated knife to slice the baked loaf of dough, getting it ready for the second trip to the oven. If the knife gets a bit sticky between slices, just wipe it with a damp kitchen cloth.
So, don't toss out those candy canes yet. Crush them up and toss them into these crunchy Italian cookies.

Mocha Mint Biscotti
1/2 cup (1 stick butter)
1 1/2 cups granulated sugar
1/2 cup unsweetened cocoa
1/4 cup very finely ground espresso coffee beans
2 3/4 cups all-purpose flour
2 1/2 teaspoons baking powder
1/2 teaspoon salt
2 large eggs
1/2 cup milk
2 teaspoons peppermint extract
3/4 cup crushed candy canes or any hard peppermint candy
Extra sugar for sprinkling

Preheat oven to 325°F. Line a large baking sheet with parchment paper.
Melt butter and allow to cool slightly.
In a large mixing bowl, stir sugar with cocoa and ground espresso beans until not little lumps of cocoa remain. Sift flour, baking powder and salt into the sugar mixture. Stir to blend.
Using an electric mixer, beat eggs in a medium bowl until fluffy and light-colored. Gradually beat in milk, peppermint extract and melted butter. Pour liquid mixture into the flour mixture and stir until the dough comes together, with all dry ingredients absorbed by liquid mixture. You may need to finish mixing with your clean hands. Add crushed peppermint candy and mix in, using hands if necessary.
Divide dough in half. On a clean work surface, form each half into a loaf about 14 inches long. Place each loaf on the parchment-lined baking sheet, with at least 2 inches of space between them. Sprinkle sugar over the tops of loaves.
Bake the loaves in preheated 325°F oven for 35 to 40 minutes or until cracks appear on top of the loaves and they feel firm to the touch. Remove baking sheet from oven. Allow loaves to cool on baking sheets for 10 minutes. Slide loaves onto cutting board. Use a sharp knife to slice into 1/2-inch-thick pieces. Stand slices upright on the baking sheet with 1/2-inch space between each slice. Reduce oven temperature to 300°F. Bake biscotti for 30 minutes or until they are dry to the touch. Cool biscotti completely on the baking sheet placed on a wire rack. When biscotti are completely cooled, transfer to a tin, jar or airtight container.
Makes about 3 1/2 dozen biscotti.
Sue Doeden is a popular cooking instructor, food writer and integrative nutrition health coach. She is the host of Good Food, Good Life 365 on Lakeland Public Television. Her own hives full of hardworking bees and her love of honey led to the creation of her recently published cookbook, Homemade with Honey.